January 6 - 13. BANGKOK It was a relief to finally get on our flight to Thailand. We had been looking forward to some down time in Bangkok for weeks and were finally ready to finish up nearly two years of travel. The plane wasn't very big, only six seats across, but it wasn't such a long flight. We stopped over in Rangoon, Burma but couldn't see anything from the plane. The airport must have been some distance from the city or Rangoon is one small place. The flight attendants seemed a bit inexperienced so the service wasn't great. One woman in particular seemed to be trying too hard. She was also rather large in stature, not fat but just a tall and husky lady. It was a problem because the s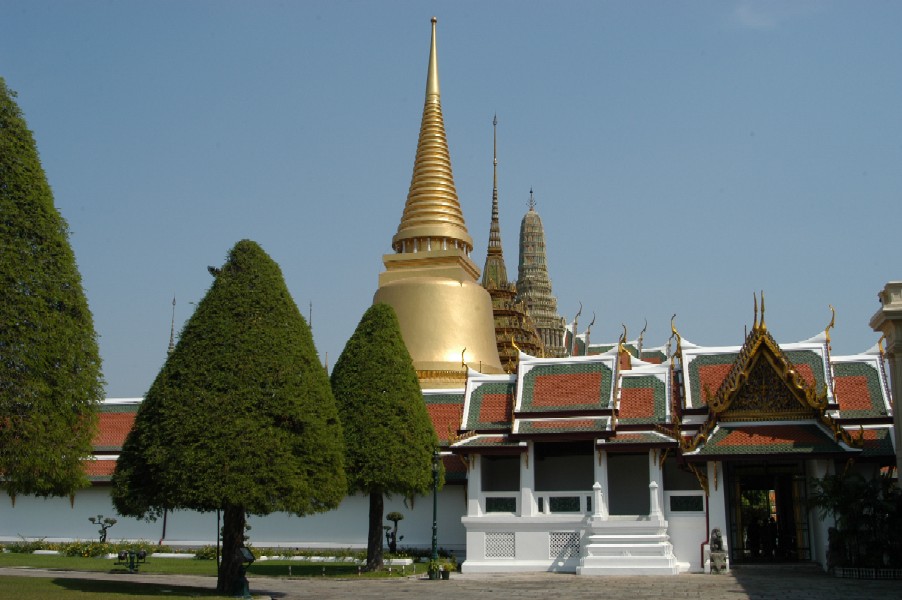 maller plane also meant a narrower aisle. She nearly took my shoulder off every time she walked down the aisle, and it was more than just a bump. Then when they were handing out snacks she bent over and practically sat on my shoulder. I could actually feel her bum wedged into my arm. She was so tall that I felt like a stool. I tried to lean away but there was only so far I could go. The Indian woman sitting between Rob and I gave me a wide eyed look and later commented on the poor service. I think that particular flight attendant would do better on a larger plane!
Arriving in Bangkok was easy. They had thought things out for the tourists. I had only been to Thailand one other time, back in 1990, and didn't have any memory of the airport but I definitely had the sense that things had changed. This was no backpacker destination anymore. We had been unsuccessful at finding a Thailand guidebook so we resorted to buying one at the airport bookstore. We knew it would be more expensive but didn't realize until later that we had paid nearly double. (A note to anyone arriving in Bangkok without a guidebook, head to Khao San Road and take your pick!). We bought a phone card and called our hotel to confirm the reservation, ask for directions, and get the cost of a taxi. At the time
we didn't realize there was an organized taxi queue in front of the airport. It was incredibly long and we waited over twenty minutes before we got a taxi but we were able to prepay and have our driver instructed where to take us. It was so stress free.
The first place we stayed in Bangkok was the Trang Hotel, in Thewet. It was a little off in left field but not much and the distance gave it a nice secluded feeling. The hotel wasn't far off a busy road but it was surprisingly serene. It was only five or six stories high and the rooms wrapped around a long courtyard. At one of the courtyard was a pool and at the other was a wooden deck that stood over a koi pond. They served a buffet breakfast on the deck every morning and it was included in our the price of our room. The rooms were the only real disappointment. They were well maintained and had all of the basic amenities but our room was very small and the A/C was a bit funky. It was more money than we usually spent but we had decided to throw our budget aside while we were in Bangkok so we could live it up a little. It had been a fairly rugged few months and we wanted to return home feeling a bit refreshed. We had seen a British family interviewed on the BBC about their world trip and we were pretty sure this had been the hotel they stayed at in Bangkok.
After a few nights at the Trang we decided to change hotels. We had done some looking around near the Khao San Road area, previously Bangkok's backpacker ghetto but now a rather hip tourist area. There were loads of bars, cafes, travel agents, massage spas, and shops selling everything from tie-dye beach attire to
bulk silver jewelry. It was all very cheesy but very convenient, comfortable, and fun. We looked at some of the cheaper options, for the sake of comparison, but came back to the Viengtai Hotel, a nice hotel on a small street just north of Khao San Road. It was packed with European tourists, a downside, and bit more expensive than the Trang, but our room was enormous, the A/C worked great, and we were on a high floor with sort of a view. It also had a pool, in a less charming setting, and included a good buffet breakfast. We stayed there for the rest of our time in Bangkok and found it nice to be walking distance to cheap food.
Even with all of the fantastic food in Bangkok, on our first night in we chose to go to the Hard Rock Cafe. It looked pretty much like every other Hard Rock except that it had a tuk tuk driving out of the front of the building. After months on a limited, albeit often tasty, diet in India and Sri Lanka we were just craving something of the old familiar and somehow those not-so-Chinese chicken salads at the Hard Rock managed to taste pretty much the same the world over. And, the Hard Rock was far better than heading to McDonalds or Burger King. We had to take a taxi from our hotel to the Siam Square area in the center of Bangkok. Siam Square was a lively modern area in the city with that chaotic Asian-city buzz. There were people everywhere - eating, talking, drinking, and shopping - and the large shopping centers were packed with little stores and kiosks that were selling all sorts of things. It was a hip nightlife area for people of all ages but mostly the young. The Tokyu Department store in the MBK Center gave us a quick flashback to Japan. Across the street from the MBK there were rows of tiny sois (alleys) full of bars, restaurants, and cafes. That was where we found the Hard Rock as well as a Starbucks and several Japanese-style convenience stores. We had alr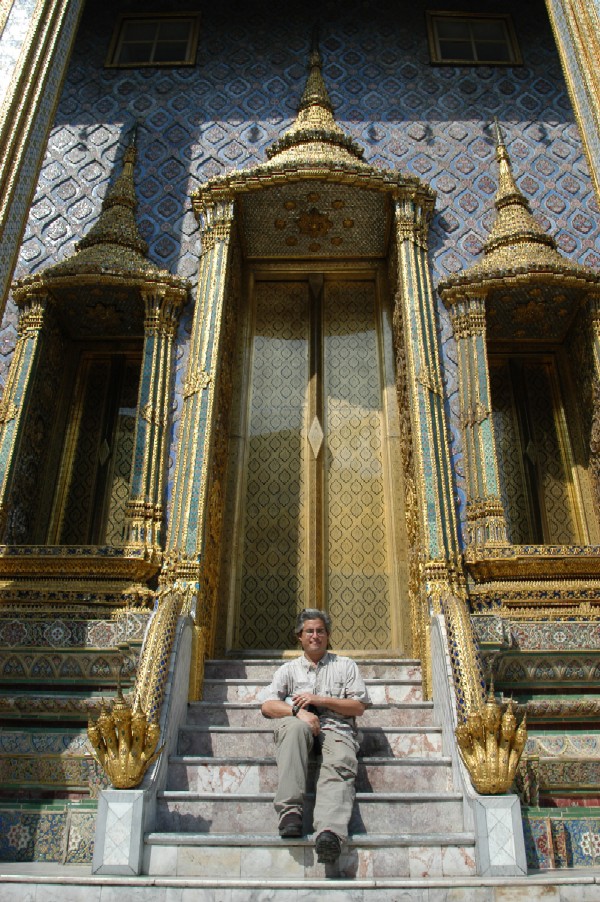 eady seen those all over the city - 7Eleven, FamilyMart, AM/PM - all more similar to their counterparts in Japan than anything in the U.S. We enjoyed browsing for Japanese candies and snacks, taking us back to our time in Tokyo.
After the Hard Rock we didn't frequent many other American fast food brands while we were in Bangkok, except for a few Starbuck's coffees and Rob went to Burger King once. There were just too many other good food options around the city from dirt cheap street stalls to elegant restaurants, and almost all of it was good. We were a bit leery of the street food at first. It had been months since either of us had been sick and we wanted to head home in good health. But, I eventually gave in a tried some roast duck at a stall on Khao San Road and it was as good, if not better, than the food we'd eaten in restaurants. The restaurants that catered to the tourists around Khao San Road tended to have rather generic food but we didn't have to go far to find some nondescript local place that served up delicious food. As a treat we had dinner one night on a rooftop restaurant along the river, with lovely views of the elegant Saphan Phra Ram VIII (King Rama VIII Bridge). Twice we ventured over to a popular place called Baan Khanitha, all of the way across town. It was housed in a beautiful wooden Thai house and served up wonderful food. It was just so good that we had to go a second time. And, indulging our Japanese taste buds we made two visits to a Japanese restaurant inside the Siam Center, also very good. Bangkok is quite an international city and cuisines of all kinds could be found around town.
Our desire for standard old sightseeing was pretty low at this point but we did make ourselves get out to see the highlights of Bangkok, all well worth the effort.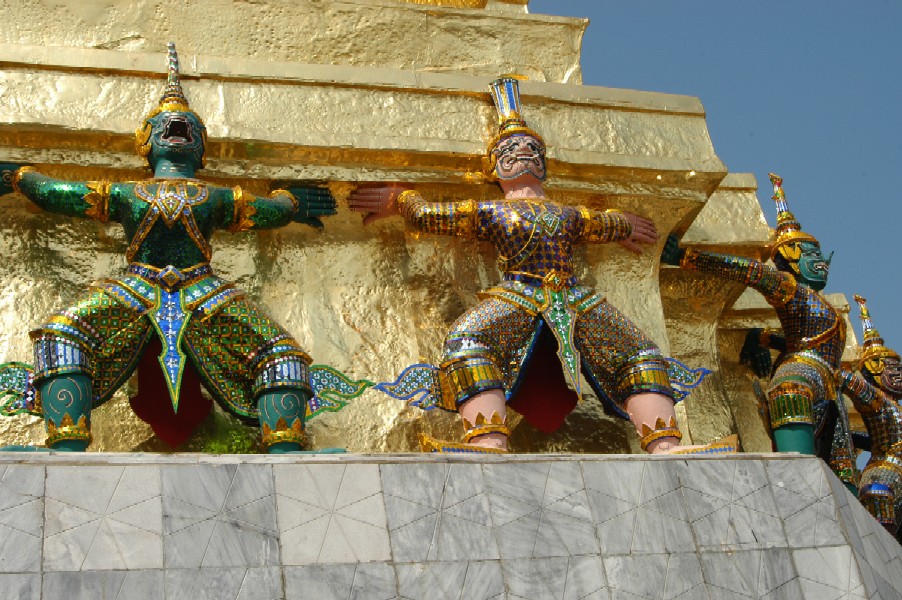 I had seen some of the sites before but, even in my travel weary state, they didn't fail to impress the second time. The first "must see" was the Wat Phra Kaew (Temple of the Emerald Buddha) and the Grand Palace. The glistening golden spires and mirrored tile work on the temple buildings were mesmerizing and the temple was kept in immaculate condition. There were quite a few tourists but the temple provided ample wandering room to spread out. Along the walls, in the much needed shade, there were beautifully detailed murals that were accented with gold and depicted the entire Ramakian, the Thai version of the Indian Ramayana epic. (India's Hindu Ramayana epic has traveled far and wide and been incorporated into Buddhist and Muslim cultures in southeast Asia.) But, the dazzling temple buildings could almost make you forget the reason they were there which was to honor and house the Emerald Buddha. The little 66cm high statue was protectively perched on a high pedestal in the main hall. Actually made of nephrite, a type of jade, it was supposedly once covered in gold but today just wears a cloak made of gold. Different kings have provided three different garments for the little Buddha which he wears according to the appropriate season; the wet season, the hot season, and the cold season. Apparently combinations were also possible because he was wearing both is wet and cold season garments when we saw him. The cloaks are changed by the king himself. While being an important religious icon the Emeral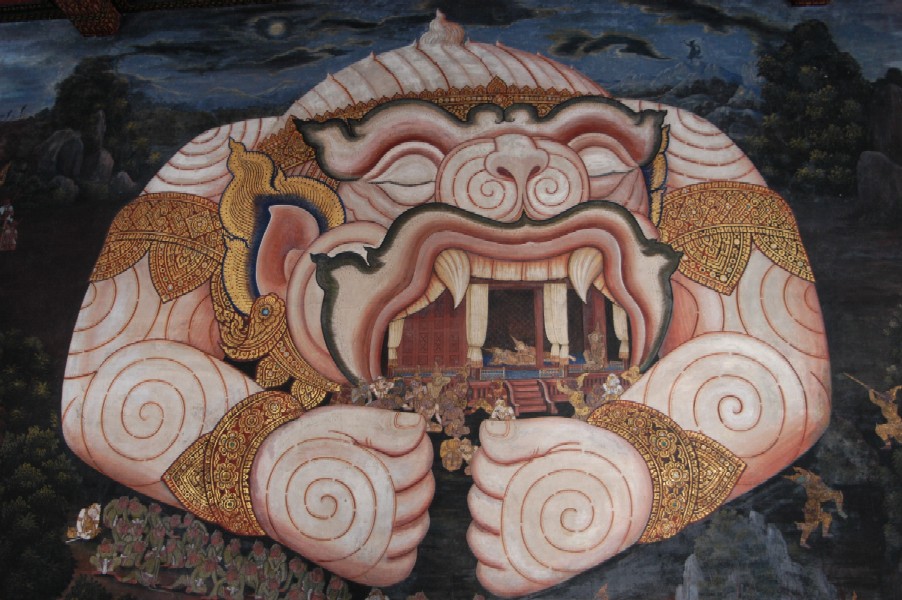 d Buddha was also a kind of auspicious foreteller of the present Chakri Dynasty. The Buddha was stolen by Laos in the mid-16th century but retrieved 200 years later by a Thai general who later became Rama I, the first king of the Chakri Dynasty. Behind the Temple of the Emerald Buddha stood the Grand Palace. It was no longer home to the king but was still used for ceremonial occasions. The building reflected an interesting fusion of Thai architectural style with European, no doubt a result of the influence from the once neighboring empires of France and Britain.
From the Temple of the Emerald Buddha and the Grand Palace we walked to Wat Pho, the Temple of the Reclining Buddha. It had the distinction of being Bangkok's oldest and largest wat (temple monastery) and housed the longest reclining Buddha. The temple was established in the 16th century but the current monastery was rebuilt in 1781. The dramatic reclining Buddha was 46m long and 15m high, practically filling the entire hall. It was modeled out of plaster around a brick core and finished with gold leaf. The massive soles of its feet were inlaid with mother-of-pearl in a display of the 108 different auspicious laksana (characteristics of Buddha). As we rounded the feet of the Buddha I made an offering and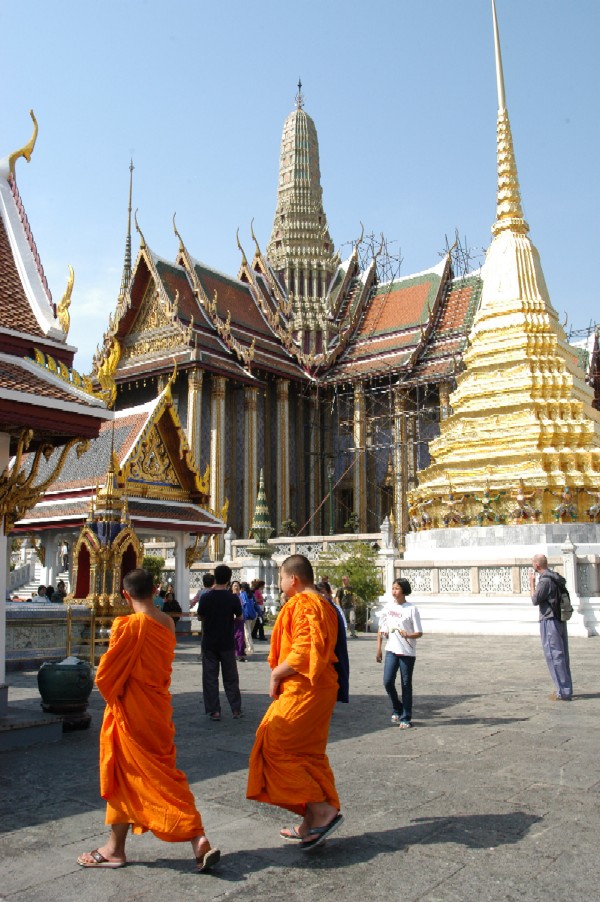 received a bowl of metal discs that were dropped one-by-one into metal pots along back wall until the exit.
Our ticket to the Emerald Buddha and Grand Palace also entitled us to select one other historical sight in Bangkok that we could visit within three days of buying our ticket. We chose the Vimanmek Teak Mansion, built in 1868 and said to be the world's largest golden teak building. It was an impressive piece of architecture and the nearby museum had some interesting items as well but it rated far behind behind the Grand Palace and Wat Pho. We had to leave our shoes and cameras behind in lockers before we were allowed to join the mandatory tour of the mansion. The tour was in English but a number of the people on the tour were Europeans who didn't speak English so it became difficult to hear the guides over the side-talking. To my disappointment the interior of the mansion was decorated with heavy European influences. It was beautiful but being partial to the Asian style I was looking forward to more indigenous artwork. The tour moved along swiftly from room to room. We stopped in the throne room and were asked to sit on the floor with our feet pointed away from the thrones, out of respect. Some of the non-English speakers didn't understand and sat with their feet pointed forward. It happened in the Temple of the Emerald Buddha, despite all of the signage. Feet are considered very dirty by the Thais (and a number of other cultures) and it is considered rude to point them towards any person or revered object. The Thais try to enforce their customs but their politeness prevents them from being too strong han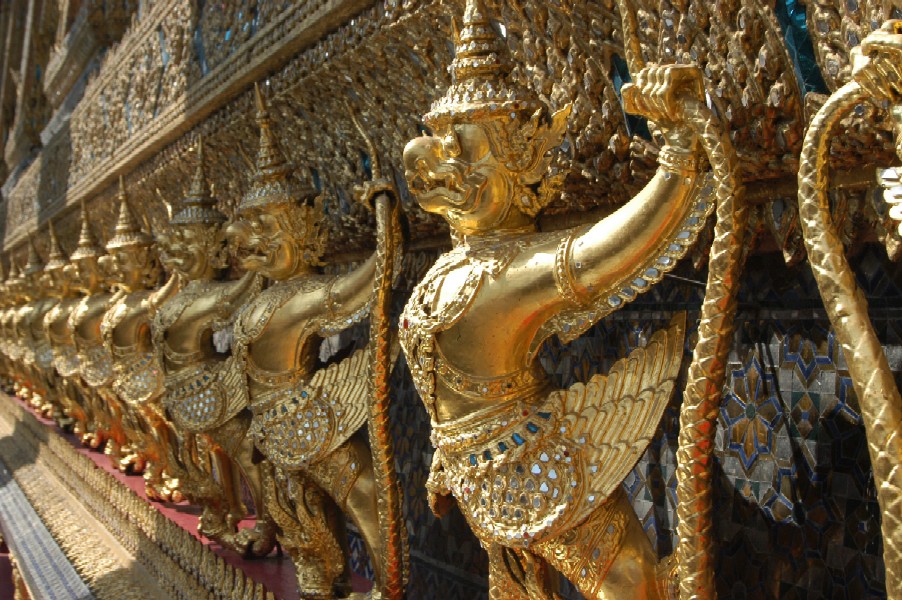 ded about it. At the far end of the temple we were shown scars from a bomb that hit the mansion during WWII. It was the result of an Allied bombing when the Japanese briefly occupied Bangkok. The mansion wasn't inhabited and it was incredibly lucky that someone saw the fire before it engulfed the building.
SRI LANKA
Colombo
Oct 25
Oct 26
Oct 27-29
Nuwara Eliya
Oct 30
Oct 31
Kandy
Nov 1-5 (1)
Nov 1-5 (II)
Polonnaruwa
Nov 6
Sigiriya & Dambulla
Nov 7
Colombo
Nov 8
INDIA
Ft.Cochin
Nov 9-15 (I)
Nov 9-15 (II)
Nov 16
Nov 17-18
Madurai
Nov 19
Nov 20
Tiruchirapalli
Nov 21
Nov 22
Nov 23
Chennai
Nov 24
Nov 25-26
Nov 27-28
Ft.Cochin
Nov 29
Lakshadweep
Nov 30-Dec 4 (I)
Nov 30-Dec 4 (II)
Trans-India Train
Dec 5-7 (I)
Dec 5-7 (II)
Siliguri
Dec 8
Darjeeling
Dec 9
Dec 10-13
Dec 14
Sikkim
Dec 15
Dec 16-20
Dec 21-23
Dec 24
Dec 25
Darjeeling
Dec 26
Dec 27-Jan 2
Siliguri
Jan 3
Jaigon
(Bhutan)
Jan 4
Kolkata
Jan 5-6
THAILAND
Bangkok
Jan 6-13 (I)
Jan 6-13 (II)
Jan 6-13 (III)