October 25. COLOMBO We slept well on our flight to Colombo, which was good for our early morning arrival. The Sri Lankan Air flight had been an immediate cultural transformation from the Middle East to South Asia. From burqas to saris. Just seeing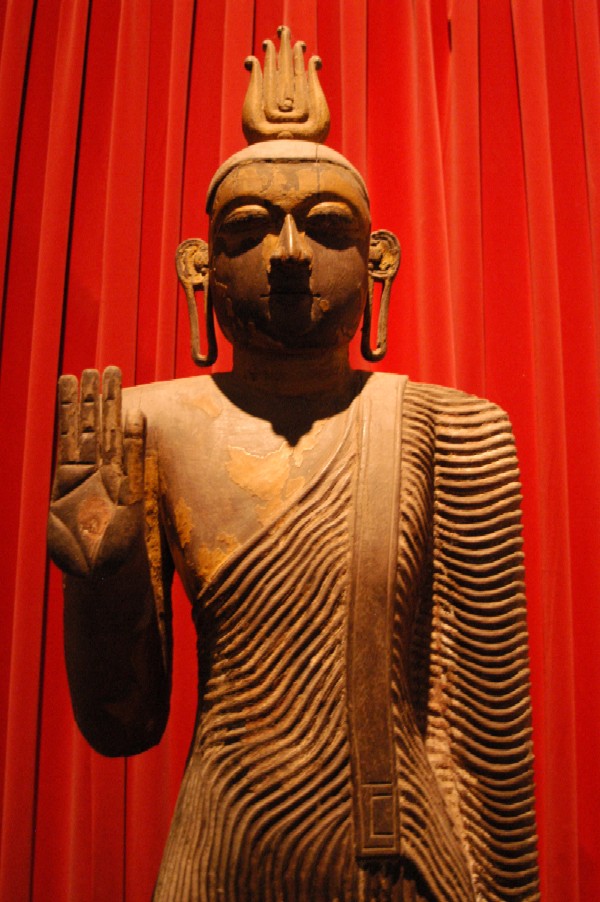 the bare midriffs of the flight attendants was a bit of a shock.
When we arrived in Colombo we still had to arrange for a place to stay so we made some calls from the airport. It took some time to find a working phone and get change but we were lucky to get a reservation after only a couple of calls. Getting a ride into the city was a small hassle but we eventually ended up in a van hired through the Tourist Board Information Desk. They initially directed us to the slew of touts and taxi kiosks that were in front the exit but the prices were all jacked up. Rob went back to the information desk to ask about reasonable rates and they wrote up a receipt for minivan transport into town that was a fraction of the cost of a taxi. It was over an hour to actually get into Colombo, along congested roads, but it was a pleasant ride. The lush green landscape was a welcomed change from Dubai and the chaotic bustle of traffic filled with tuk-tuk exhaust made me nostalgic for Asia. Tuk-tuks are covered three-wheeled taxis that fit two comfortably but are often crammed with more people. They are found all over southern Asia from Thailand to Nepal and seeing them was a reminder that we were back in Asia. While I had never been to Sri Lanka before there was a sense of comfort that came from an inexplicable feeling of familiarity.
As we got into the middle of Colombo the traffic was more intense but after a few major intersections I had our location figured out. The driver, on the other hand, didn't know how to get to the guesthouse. We had given the information desk the address and indicated it was near the French Embassy but that didn't seem to mean anything to our driver. I could tell that we were only blocks away but he kept stopping to ask directions without success. We put the map in front of him and pointed for him to go straight ahead. He just ignored us and kept asking for directions. He didn't speak English and, apparently, couldn't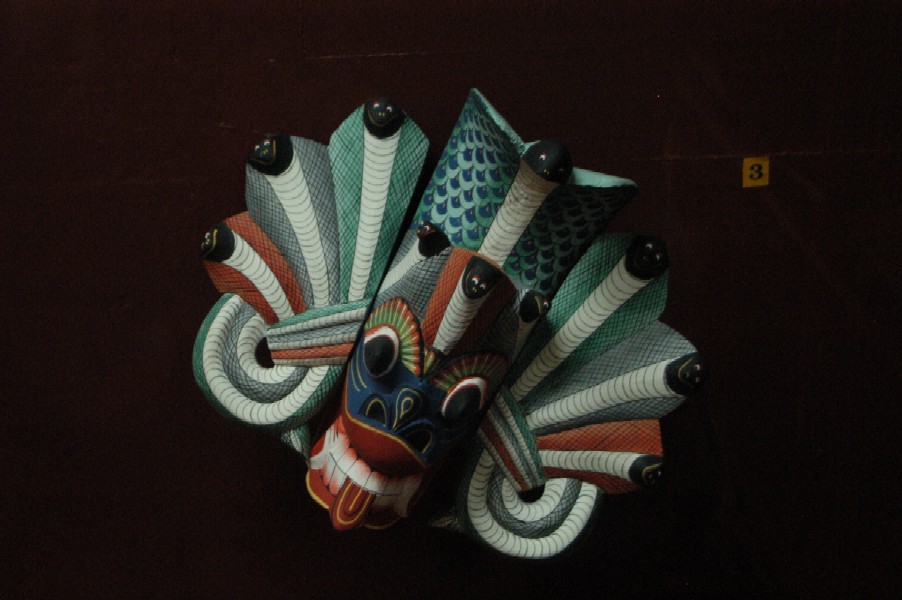 read a map. We had to become rather animated before he finally acquiesced and followed our directions.
The guesthouse, Parisare, was a nice home in the Cinnamon Gardens area of Colombo. A completely modern structure, it was solid concrete and almost entirely open to the outdoors. We rang the doorbell and a large metal door slid open. It was a garage door that opened onto a driveway. The driveway stood in front of an exposed living room and a spiral staircase to the second floor. Off of the living room was a kitchen, also outside. The entire lower part of the house was like a giant patio, shaded by the upper floor. All of the furniture in the house looked antique, mostly in a 1950's style. High walls and ornate iron work protected the interior open area from the outside world. The home was owned by an older couple with two grown children who no longer lived at home. The wife greeted us when we arrived and directed us to our room upstairs. The upper floor consisted of a large living area, three bedrooms, a patio, and a utility room. Our bedroom had folding doors to an outside balcony, mosquito netting over the beds, a ceiling fan, and a bathroom. The walls didn't come entirely to the ceiling to allow for airflow around the house. It felt almost like we were outside but with Sri Lanka's warm climate it was very pleasant. The young man they had on staff brought us a cool bottle of water and after a drink we stretched out on our bed and took a long nap. The overnight flight had finally caught up with us.
We forced ourselves to get up in the afternoon to get over to the Indian Embassy to get our visa applications. There was a line of people waiting to get inside that stretched down the block. A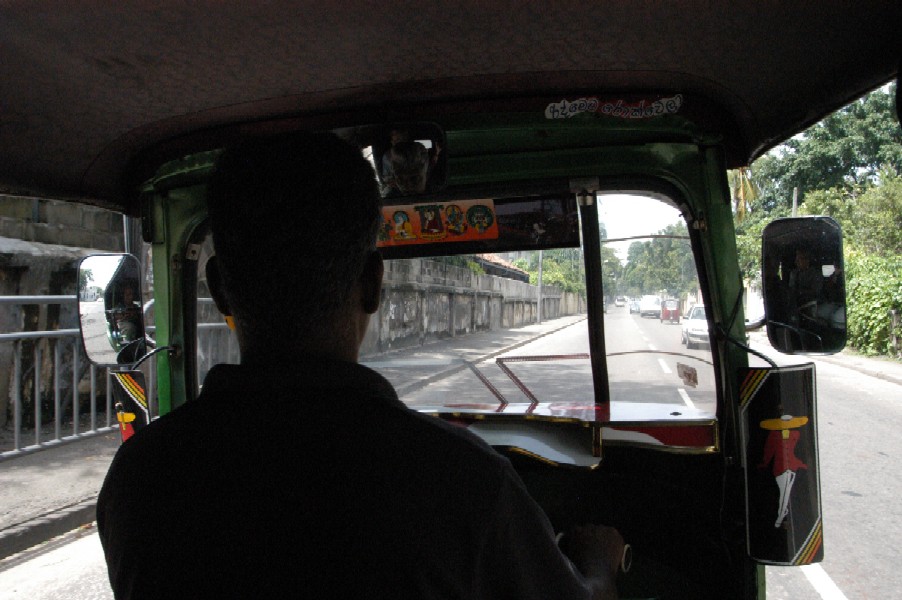 guard at the door provided us with the forms and indicated we could come to the front of the line when we were ready with our applications, which was rather accommodating we thought. The only problem was that we didn't have enough money to pay for the visas and our Citibank ATM card wasn't working. It hadn't worked since Africa, which we thought was an Africa problem, but then it didn't work in Dubai either. Now that it wasn't working in Sri Lanka we knew something had to be wrong. When we went into the Citibank office to get it sorted out, there was little they could do but give us a phone to talk to Citibank support people. Unfortunately, their first line support people were in India and couldn't really help either. We had to call during US Central Timezone hours and talk to a "specialist". It appeared that our cards had been de-linked due to suspicious activity, trying to use our them in Zanzibar apparently. The young man that helped us was very nice and even offered to loan us money out of his own pocket to help us out. Naturally we declined but it was an awfully generous and trusting offer.
With the visa process on hold until we sorted out the money we went back to our guesthouse and relaxed a bit before heading out to get dinner and track down a telephone. The life of Colombo was mostly centered along Galle Road, which stretched south from the business district all of the way through town, just a few blocks away from the ocean. Shops and restaurants lined both sides of Galle Road and the street was always bustling. The Indian embassy was on the northern end of Galle Road, not far from downtown. Our guesthouse was to the east in Cinnamon Gardens. Colombo wasn't a big place but everything was all spread out enough that we made good use of the tuk-tuks to get arou
nd. For dinner we indulged in some Japanese food, which might seem risky so far away from Japan but turned out to be some of the most authentic Japanese food I have ever eaten outside of Japan! The restaurant, Sakura, transported us right across Asia. It was authentically decorated like a small restaurant in Japan, right down to the fuzzy wallpaper, tatami mats, excessively cute accents, and the full-color Mt. Fuji sign that lit up. Even the Sri Lankan staff greeted us with a hearty "Irasshaimase!" and deep bows.
After dinner we tried to find a phone where we could call home but the normal phone places were already closed for the day. We ended up in the downtown area, called the Colombo Fort area, where the large hotels and tall buildings were congregated. The head bellman at the Ceylon Continental Hotel (formerly an Inter-Continental hotel) tried to help us out after we explained our problem but the only way they could let us make a call is if we called through the hotel operator. Instead we bought a phone card at the hotel gift shop and went to the payphones in the slick, modern World Trade Centre Building, just down the street. Unfortunately we couldn't get the card to work so it was back to the hotel where we just paid them the local call charges to use the phone card from their lobby phones. It was a bit of a circus but in the end I got through to Citibank and after sufficient interrogation about my identify they assured me that our cards would be re-linked to our account. Whew...
SRI LANKA
Colombo
Oct 25
Oct 26
Oct 27-29
Nuwara Eliya
Oct 30
Oct 31
Kandy
Nov 1-5 (1)
Nov 1-5 (II)
Polonnaruwa
Nov 6
Sigiriya & Dambulla
Nov 7
Colombo
Nov 8
INDIA
Ft.Cochin
Nov 9-15 (I)
Nov 9-15 (II)
Nov 16
Nov 17-18
Madurai
Nov 19
Nov 20
Tiruchirapalli
Nov 21
Nov 22
Nov 23
Chennai
Nov 24
Nov 25-26
Nov 27-28
Ft.Cochin
Nov 29
Lakshadweep
Nov 30-Dec 4 (I)
Nov 30-Dec 4 (II)
Trans-India Train
Dec 5-7 (I)
Dec 5-7 (II)
Siliguri
Dec 8
Darjeeling
Dec 9
Dec 10-13
Dec 14
Sikkim
Dec 15
Dec 16-20
Dec 21-23
Dec 24
Dec 25
Darjeeling
Dec 26
Dec 27-Jan 2
Siliguri
Jan 3
Jaigon
(Bhutan)
Jan 4
Kolkata
Jan 5-6
THAILAND
Bangkok
Jan 6-13 (I)
Jan 6-13 (II)
Jan 6-13 (III)