December 5 - 7. KOCHI to SILIGURI "From a 25 Hour Boat Ride to a 52 Hour Train Ride..." (continued) The train we were on made one of the longest journeys in India, from the southern tip of the country to Guwahati in Assam. It was already running late when it picked us up and we continued to loose time during the two day trip. Rob did his routine exploration of the train and returned with a report. He said the three-tier compartment was packed and that we weren't eating anything that was made on the train. The kitchen was filthy, with big vats of food, sweaty cooks, and creepy crawlies. That left us with grabbing food when we stopped long enough at stations. Rob always made me nerve wracked when he got off at the stations because he would wait until the train was moving again to jump back on. That wasn't always deliberate because we often couldn't tell how long the train would stop. He checked with other passengers and the ticket takers but there was always some flexibility in their estimates.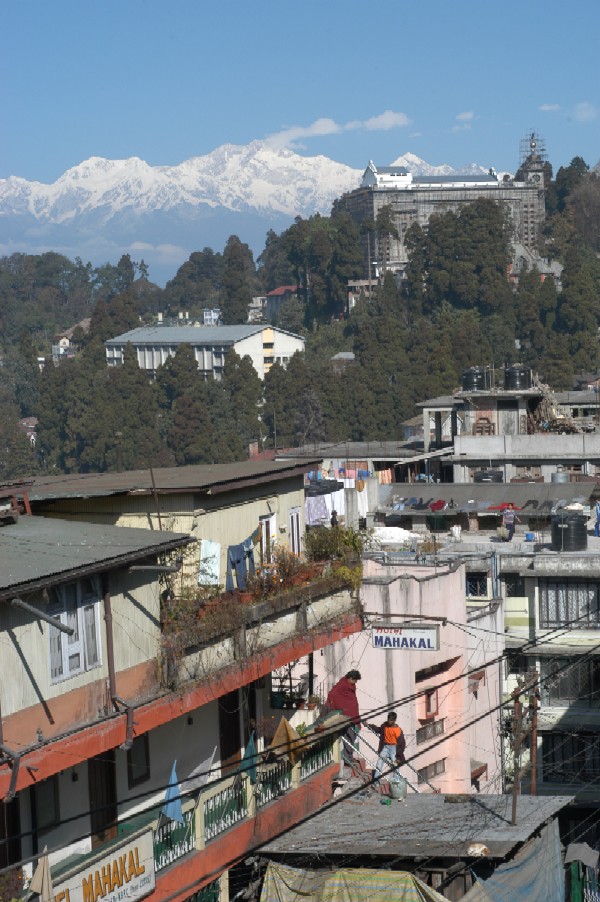 The train started to move very slowly so he didn't have a hard time getting back on the train but he wasn't always standing near our train car and had to just jump on wherever he was on the platform and walk back. With the crowds of people in some of the cars it sometimes took him a while to reach our compartment. He never missed a train but I always had those few minutes of wondering. Even the woman in our compartment started asking where he was when the train started moving. I could only shrug but wasn't generally that worried. However, it did make me think about what I would do if he did miss a train. I am not sure how I would mange with all of our bags and he carried the bulk of our rupees. He knew that if he missed the train he might not find me until he got back to the U.S. On one quick stop he stepped off of the train just outside our car. I could see him through the window. He was looking the other way as the train slowly started to move. The woman in our compartment gave me a wide-eyed look and tried tapping on the window (the windows didn't open). I just shook my head and sighed. Someone getting on the train alerted him and he jumped back on in time.
The one thing Rob's station explorations got us was some food. It seemed that different stations specialized in different things. One station had an assortment of pulao vendors while another was selling fried eggs on bread. Rob usually followed the crowd and went for the vendor making up the food right in front of him. We did buy coffees and chai from the train, taking turns with our compartments mates to pay for the bill. When the train stopped we also had a flow of people hop on to sell things, beg, or clean our compartment for a tip. They frequently came when it was just me and the other man in our compartment. Rob and the woman were off buying things on the platform. People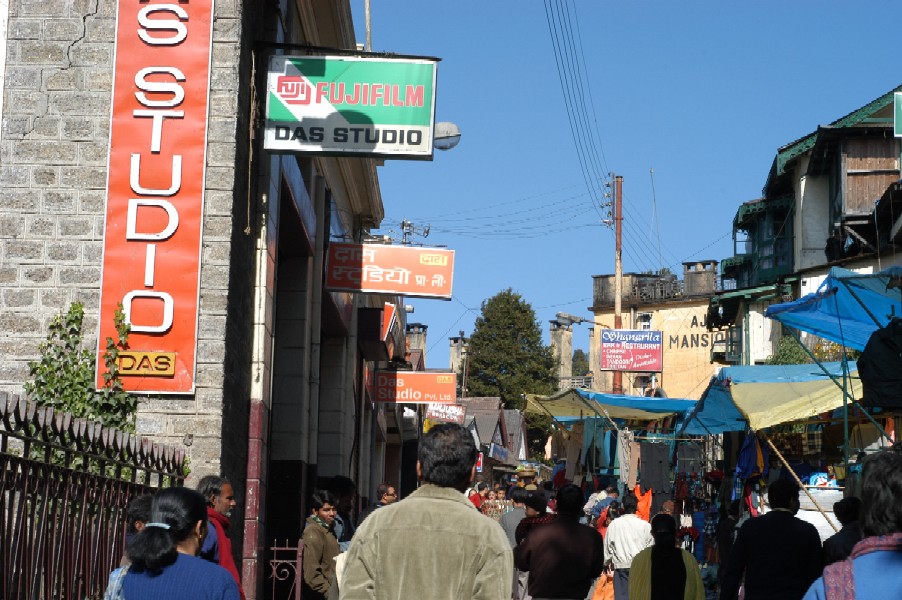 would just fling open the curtains and walk into our compartment. I had one woman come right up to me, holding a cross from around her neck in my face, and ask for money with desperate insistence. The cleaners usually came in on their knees and would proceed to use their grass hand brooms to clean out the floor of our compartment and then asked for a small tip. It was a tough way to earn a living but you had to respect them for trying to earn some money instead of just begging. However, I did have one, upon seeing that I was a foreigner, just put his hand out without doing any cleaning. When the first one came to our compartment the couple looked away so Rob offered the guy the smallest monetary unit he had which was 10 rupee (22 cents). He knew it was probably more than normal but it was all that he had. The woman chastised him and said he should have only given one rupee (2 cents).
When we start out on such a long journey you imagine that all of those hours on a train will be never ending agony but it is amazing how quickly time passes. We did a lot of reading, some napping, and then there were those exhilarating stops that punctuated the trip with a bit of excitement. We also chatted on and off with our cabin mates, the wife mostly. It was a strain to interpret what she was saying but the bits and pieces we picked up were about their family and what she was going to do with her husband dying. They were Christians, which is why they went all of the way to south India to a Christian hospital, but she was Indian and he was Bhutanese. They lived on the border town that straddles the two countries, the only place that goods and people could travel easily into and out of the sequestered country of Bhutan. They met because they were Christians but we gathered that their families weren't too happy, hers being Hindu and his being Buddhist. At times we got the feeling that maybe they weren't so bad off but other times it sounded like they were quite poor and had a small house. We thought we heard something about them helping his family and that they had more kids than just their own but that their families didn't help them in return. It was really pretty cryptic communication so we could have gotten any of it wrong but one bit that we both thought we understood correctly was that she was offering to give us one of her kids. When I picked up on that I thought I must have misheard but Rob later told me that he'd understood the same thing. And, that came up in the first half of a day that we were together! We let it pass like we hadn't gotten what she had said, because we really didn't know if we had, and fortunately it didn't come up again.
The landscape that we could see during the day was mostly flat and didn't make for very interesting scenery but we could feel the gradual change in climate and the coffee vendors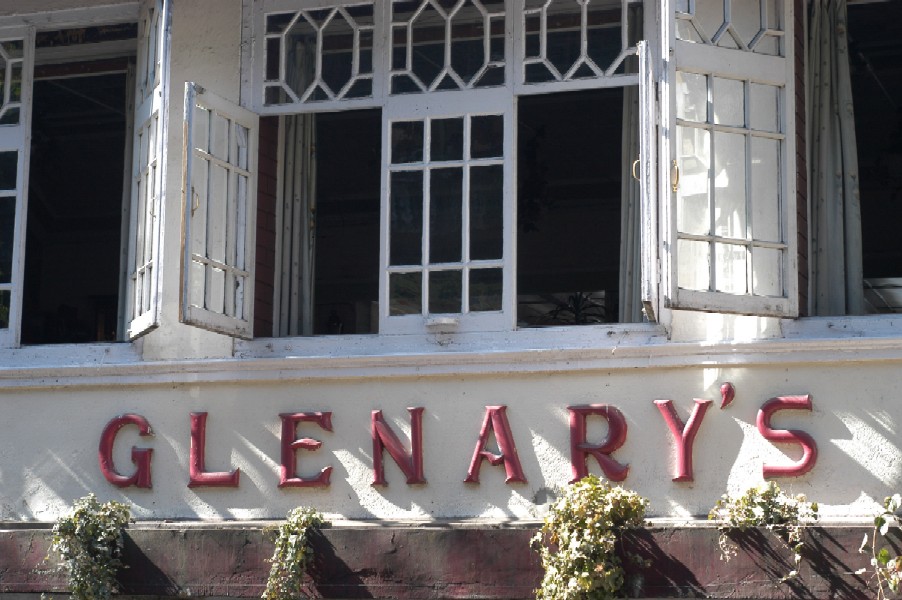 went from selling the tasty south Indian coffee to Nescafe powder in a cup of hot water. On the second night we let the couple have both of the bottom bunks so she could reach her husband more easily. He could move himself around with some effort but needed some help when he went to the bathroom. We tried to help when we could by opening doors and assisting him when she was napping but there wasn't much we could do. The top bunks were fine and by the second night we were more indifferent to the presence of the cockroaches. When you are really tired your tolerance for things can change dramatically, in different directions depending on what it is. Cockroaches are filthy disgusting bugs but, let's face it, they are far less threatening than malaria carrying mosquitoes. In the morning we heard the couple get up so we climbed down from the bunks to sit more comfortably. But, it soon became clear that the woman was still tired. She wouldn't sit next to us on our bench but tried to cram herself in alongside her husbands legs, her feet folded in front of her, and tried to sleep with visible discomfort. We picked up on this quickly and offered to let her lay back down while we returned to the bunks. We stayed up there for hours until she started to invite travelers from other parts of the train car in to talk. From her gestures we could tell that she was giving them the story about her husband. Finally, when it was almost noon, we came back down again. She looked inconvenienced by our presence but clearly she was no longer sleeping and we weren't particularly comfortable in the upper bunks. Again she squeezed in alongside her husband, even after we invited her to sit more comfortably on the bench with us. We thought she might have been uncomfortable sitting next to Rob so I took the middle but she still didn't move. Anyway, she invited other Indian men to squeeze in alongside her on her husband's bed so I don't thing gender was the issue. We always tried to be hospitable by sharing our snacks and they would share in return, keeping things even. But, by the end of the second day it was all feeling rather strained. She seemed to have a rotation of people coming to our compartment to view her husband. It seemed awfully intrusive to him in his condition but what did we know about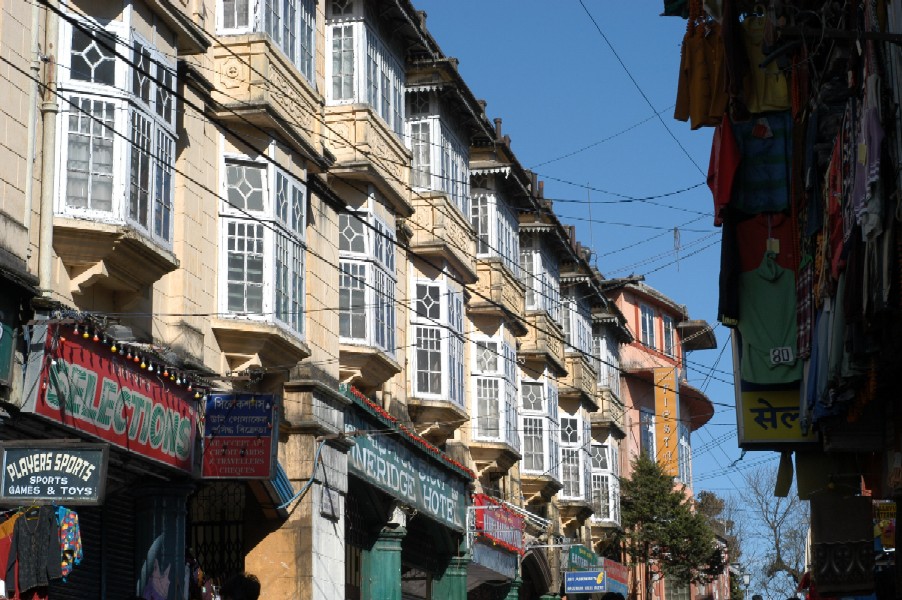 Indian customs in such circumstances?
Since our train had started off an hour late from Ernakulum it was amazing that it was only about two hours late after almost 57 hours of travel. The station that we got off at was NJP (New Jalpaiguri). The couple had few more hours to go until they got off and transferred to a bus up to Bhutan. When it got late we were in a conundrum over what to do about going to bed. The train would reach NJP around 1:00 am so we wouldn't get much sleep in any event but getting our bags out posed a problem. Our packs just barely fit under the benches and it took quite a lot of pulling to get them out and was almost impossible if people were sitting on the benches. If we waited to do that at 1:00 we would have to get them up. On the other hand if we put them in the aisle it would be a real problem for the man in our compartment to go to the bathroom. In the end we just decided to just get our bags out early and set them on one of the top bunks. Both us and the bags wouldn't fit on the top bunks together so we just sat on the bottom bunk until we arrived at the station. That meant that the woman had to sleep on the top bunk again and she was visibly unhappy about it. We tried to explain, through her husband, that we didn't want to disturb them by getting out our bags in the middle of the night and assured her we would let her know if her husband needed anything. He did his best not to impose on her and tried to get up to go to the bathroom on his own but Rob went with him to help.
During the two day journey we had gone round and round about what we should do, if anything, to help this couple in our compartment. On the first day we were ready to give them $50 but didn't want to do it until we were getting off the train because it would make things awkward. But, by the end of the trip we were more confused about what to do. Clearly he was ill but we couldn't really figure out what was going and the wife gave us very mixed signals. When we exchanged snacks or bought coffee they were careful to keep things even so maybe giving money would be offensive. Had she really offered to give us one of her children? We were hand signaling back and forth right up to the moment the train stopped at NJP but when it came time to get off our indecisiveness had us paralyzed. We didn't give them any money but gave them our blessings as we left. As the train pulled away we were still having second thoughts but it was done.
SRI LANKA
Colombo
Oct 25
Oct 26
Oct 27-29
Nuwara Eliya
Oct 30
Oct 31
Kandy
Nov 1-5 (1)
Nov 1-5 (II)
Polonnaruwa
Nov 6
Sigiriya & Dambulla
Nov 7
Colombo
Nov 8
INDIA
Ft.Cochin
Nov 9-15 (I)
Nov 9-15 (II)
Nov 16
Nov 17-18
Madurai
Nov 19
Nov 20
Tiruchirapalli
Nov 21
Nov 22
Nov 23
Chennai
Nov 24
Nov 25-26
Nov 27-28
Ft.Cochin
Nov 29
Lakshadweep
Nov 30-Dec 4 (I)
Nov 30-Dec 4 (II)
Trans-India Train
Dec 5-7 (I)
Dec 5-7 (II)
Siliguri
Dec 8
Darjeeling
Dec 9
Dec 10-13
Dec 14
Sikkim
Dec 15
Dec 16-20
Dec 21-23
Dec 24
Dec 25
Darjeeling
Dec 26
Dec 27-Jan 2
Siliguri
Jan 3
Jaigon
(Bhutan)
Jan 4
Kolkata
Jan 5-6
THAILAND
Bangkok
Jan 6-13 (I)
Jan 6-13 (II)
Jan 6-13 (III)