December 26. PELLING to DARJEELING I slept poorly in anticipation of seeing the sun rise reveal Kangchendzonga. It started out kind of hazy but turned into a lovely morning and as the sun hit the snow capped Himalayas I felt elated. It was the closest we'd come to the great mountain on this trip. It didn't last long before they started to cover in clouds but it was worth getting up to see.
We had that we'd spend more time in Pelling but we also thought it would take us longer to see both of the temples. Since we were able to get our sightseeing done in a day we decided to head back to Darjeeling. There was more to see in western Sikkim but in the winter climate we were prepared for any trekking, short or long. What we hadn't planned on was market day which meant all of the shared jeeps were packed up almost as soon as they hit town and hoards more people were still waiting. Our hotel called around about a jeep but it was really expensive. Instead Rob checked around town and came up with a guy who was willing to take us in his car. He wou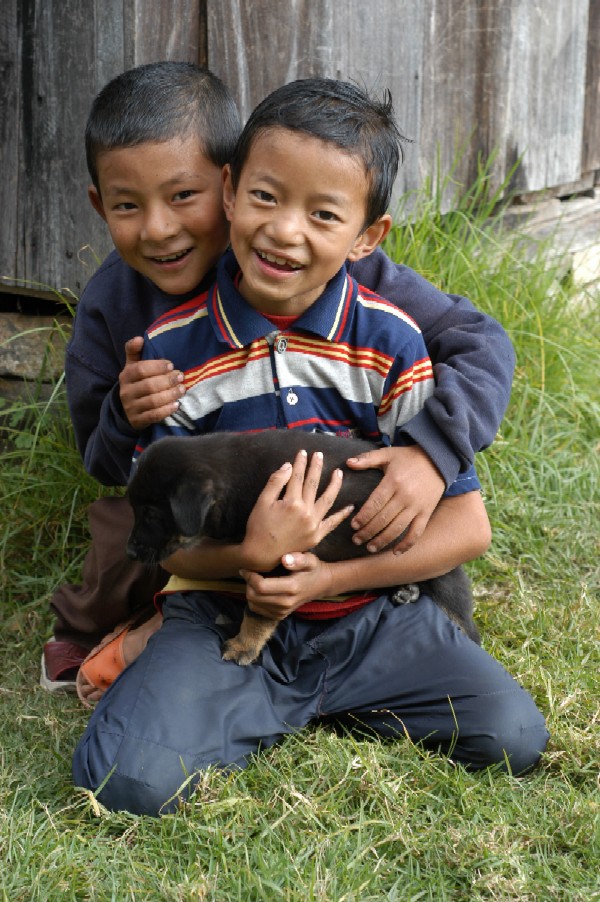 ld take us to Jorethang and from there we would get a taxi. But, I had to admit I was skeptical when I saw the car, it was a little hatchback job, low to the ground, not your typical mountain vehicle. It was new and still had the plastic wrap on parts of the interior so it was really clean but I had to wonder if it would bottom out on the bumpy road with us and all of our bags loaded inside. Amazingly our driver navigated the road very well, carefully managing the bumpy bits, and had us down the mountain in a flash. Again I had to wonder at the steep descent and decided to measure our drop. In less than a half hour we dropped more than 4500 feet! When I craned by neck out to look over the edge on a turn I could see straight down to the river and we were nearly half way up the hill. The smaller car was better able to handle the turns than the jeeps and when we hit the main road out of Legship he flew the rest of the way to Jorethang. After finding us a jeep headed for Darjeeling he helped us unload our bags and was back on his way to Pelling.
We bought out the front seat on the next jeep leaving for Darjeeling, because those were the only seats left. A western woman was crammed in the middle section with three other people. We were all packed in and almost ready to go when they pulled a switch on us and moved us to a more rustic jeep. It didn't make that big of a difference but the "new" jeep had small metal doors and canvas window flaps, as opposed to the full-sized doors on the first jeep. It soon became clear what had happened as we watched an Indian family load into the other jeep. Apparently they didn't want to ride in the older model jeep. But, watching them load up was worth transferring jeeps. Naturally they put the women in back but, unfortunately for them, the back seat of that jeep wasn't easily accessible. The back of the jeep swung open like a door but the back seat was a long bench so these poor ladies had to stand on the bumper while they leaned over the back of the seat and hoist themselves into the seat, saris going over whic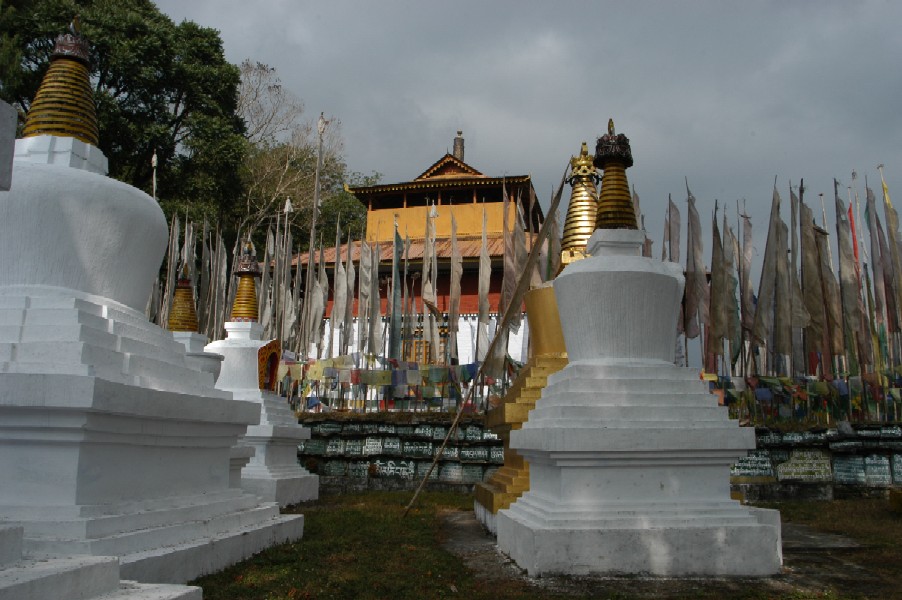 h way, their generous bums just squeezing through the gap. It was a rather indelicate moment for them but entertaining for us, which they didn't know. It made me think of what the man who ran the Garuda Hotel said about the Indian tourists. He thought they were quite brave to come from the heat of Calcutta to this foreign part of their country. For us it didn't seem that far but local tourism is a newer thing in India and instead of heading to some holiday destination these people chose to have an adventure in Sikkim. In a country with so many diverse cultures it had to be good for people to learn more about each other.
We jeep ride up to Darjeeling was truly spectacular. Going up hill it wasn't so bad sitting in front, in fact the views were fantastic. Even with just the two of us in front with the driver I felt like I was practically hanging out of the jeep window for most of the ride. I couldn't imagine what it would have been like with an extra person! But, all of the fresh air kept me from getting motion sickness and the miles and miles of steep green tea leaves glowing in the afternoon sun was worth any amount of discomfort. I just haven't seen anything quite like those lush steep hills of Darjeeling. If only we could have stopped to take some photos. The jeep made one long stop to unload some boxes of booze that were stuffed under the seats but otherwise we made good time getting up to Darjeeling and arrived in town before dark.
We went back to Hotel Seven Seventeen and got ourselves a front facing room with a view. It wasn't until we saw the news that we found out about the tsunami. The thousands of deaths that had already amassed were sad enough. At the time we couldn't even imagine the extent of the damage and the scale of deaths that would result.