November 24. CHENNAI Our train to Chennai was the Vaigai Express and we had first class A/C seats. They were like airplane seats, very comfortable. It was the way to go and pretty clean. We only saw one cockroach. They sold snacks and drinks more frequently in first class. Men would walk up and down the aisle carrying metal dispensers full of coffee or tea. When you waived one down he would adeptly drain a portion into a small plastic cup and hand it over for only a few rupees. I tried a bread snack that was quite tasty as well. Our seats faced another row of seats in the middle of the carriage. Nobody was in those seats so we had ample leg room and the bonus of a table that ran down the middle. It took us 5 hours and 45 minutes to reach Chennai, formerly known at Madras.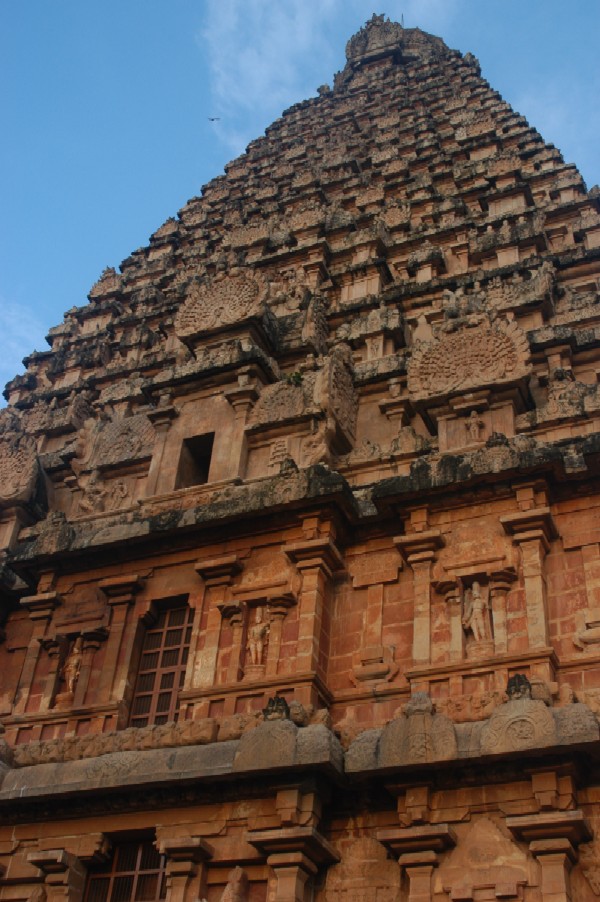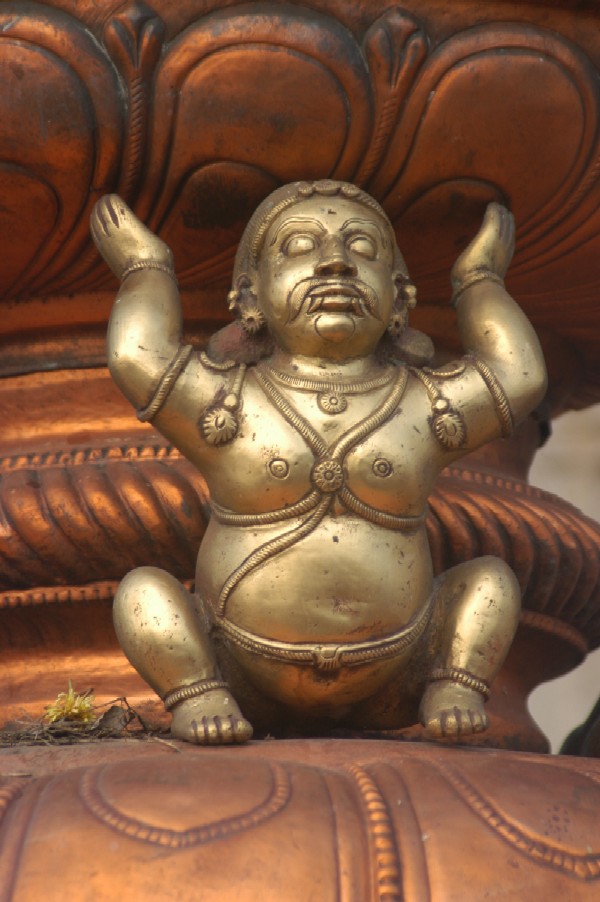 In the mid-90's India changed the names of many places that were associated with the Raj (British Rule) but the old names are still commonly used. Chennai is India's fourth largest city with nearly six million people and was founded in 1639 by the British East India Company.
We hadn't made any hotel reservations for Chennai since we were arriving early in the day so I waited with our packs while Rob went in search of a telephone. I stood near the entrance and balanced our packs against each other because other nearby walls or posts were filthy, or more specifically they had been peed on by people or some really tall dogs. It took Rob a little while to find a phone place but he returned with a reservation in the southern side of town at the New Woodlands Hotel. They advised him how much to pay a taxi to get there and we were off. For a city with so many people Chennai looked smaller that I had expected but the crowded streets reminded us how many people lived there. We cruised down Anna Salai, a main boulevard that cut diagonally across the city, passing Spencer Plaza, the central shopping mall. Then we turned south and cut over to our hotel on Dr. Radhakrishnan Salai Rd. When the taxi pulled into the parking lot we pleased with our choice. The hotel complex was laid out more like a large motel with clusters of two story buildings. We checked in the front and were directed to our room at the far back of the complex, very quiet. The room was immaculate and neatly decorated with tiled floors. There was a TV, frig, A/C, and the bathroom even had the shower tiled off so water couldn't spill out onto the floor. It wasn't he cheapest place in town but very fairly priced for the quality of the room. As we settled in Rob
noticed an announcement on the refrigerator. We were in a fully vegetarian hotel and it was a warning not to bring any meat products onto the premises. I could almost hear Rob's chin his floor. Unlike Kerela, with its sizable Christian population, Tamil Nadu was a more conservatively Hindu region and vegetarianism was quite common. Eating in tourist hotels in Madurai and Trichy we had been eating meat but vegetarian restaurants were abundant and now we were in a hotel that catered mostly to local Indian tourists so NO MEAT ALLOWED.
By the time we got settled in and cleaned up it was late afternoon and we needed to figure out what we were going to do about sightseeing. We had read about a tour offered through the local tourist bureau, the TTDC, that covered several places in one day. Tours weren't high on our list but our time in Chennai was limited and it would allow us to see more in less time and with less hassle. We walked to the Hotel Maris just down the street because the guidebook said we could book TTDC tours there. It wasn't far from our hotel but there was an overpass along the way that had chaotic traffic. There wasn't much of a sidewalk so it was a squeeze to stay out of the way of the cars and the exhaust was nasty. Even for such a short distance we wondered if a tuk tuk would have been a better idea. When we inquired about the TTDC tours the hotel staff looked as us like we had our heads screwed in backwards. It seemed that they didn't book TTDC tours at the Hotel Maris. So we grabbed a tuk tuk to the downtown TTDC office and signed up for a tour that left the following day. We also checked into tours to Tirumala, the pilgrimage temple outside Chennai in neighboring Andra Pradesh but all of them were full. We would have to sort that out on our own. After the TTDC we needed to make a Citibank run so we hopped in a tuk tuk and went to Spencer Plaza, where the our hotel had told us there was a Citibank office. From the outside the mall was pretty modern looking but inside it was a mishmash of small stores that were overflowing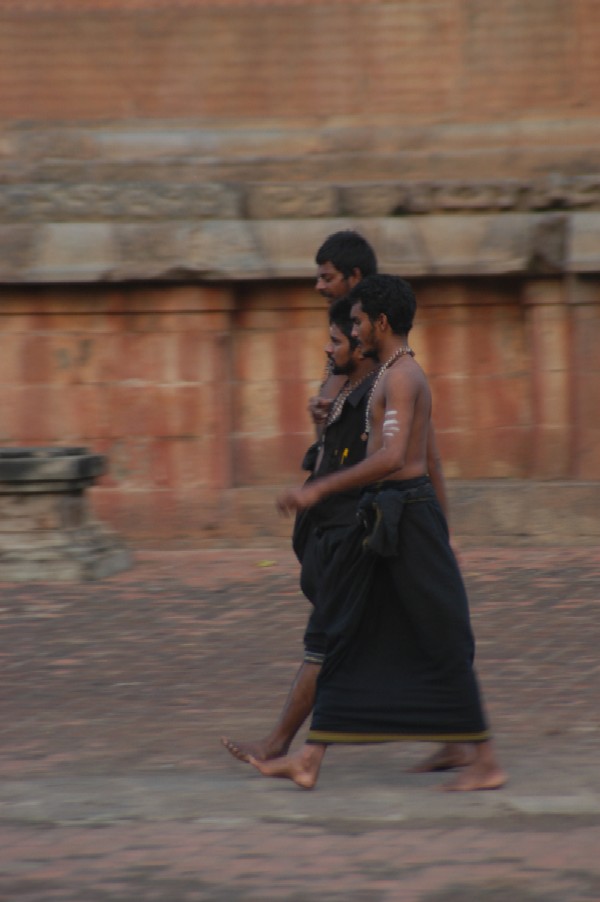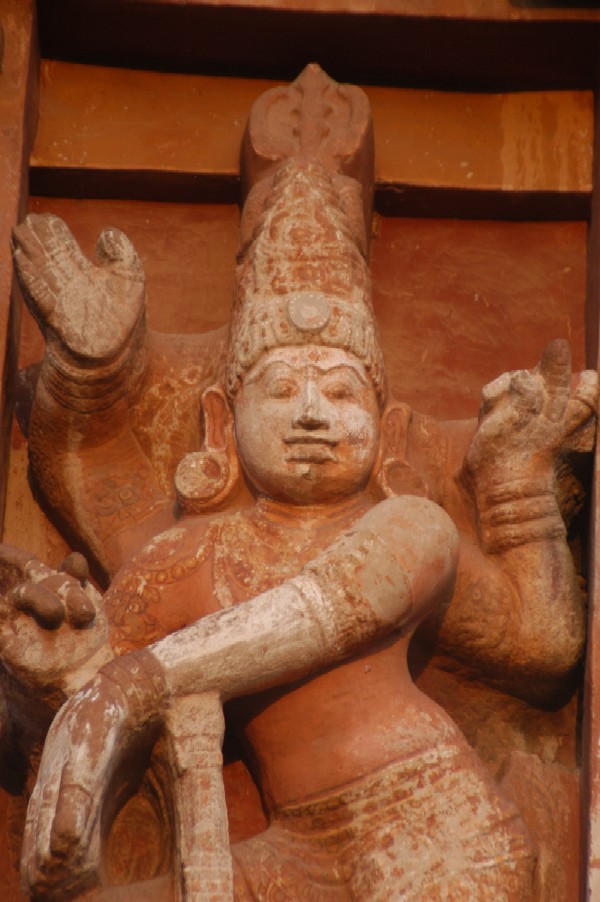 with stuff, more like a street market than a mall. We thought that there might be a fast food place in the mall where we could grab some dinner, perhaps even a McDonald's (there are veggie McDonald's in India) but the mall was starting to close and the food court wasn't very appealing. The Citibank turned out not to be inside the mall but across the street so we had to make a death defying dash across Anna Salai Road to the ATM, fortunately protected by a night guard.
The food options didn't look very rewarding in the mall area. It was dark and Rob didn't want to eat veggie so we decided to venture back towards our area and stop at the nearby Sheraton Hotel. When all else fails an overpriced tourist hotel can usually fill the need. We felt rather shabbily dressed for the posh marble lobby of the Sheraton and weren't going to invest in a lavish meal at the upscale restaurant but found some decent sandwiches at the slick lobby cafe. It was very pricey by local standards but comfort food for us.