July 8. CHITIMBA "Hike to Livingstonia" With the weather gray and the campsite rather unpleasant I was thankful for the option to hike to Livingstonia, a missionary town set in the mountains near the lake. It was named after David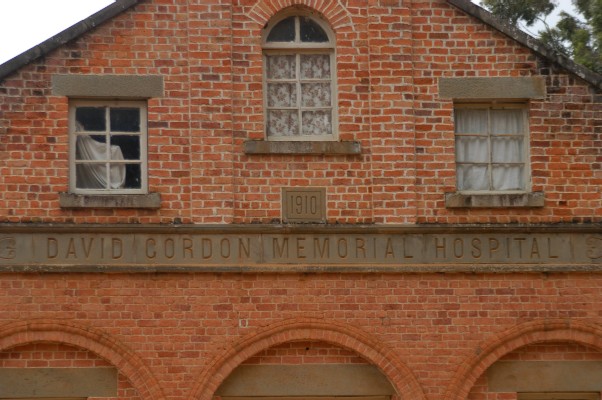 Livingstone. The drawback was that the Hooligans planned to go as well. Livingstone was a Scot. It was a 14km roundtrip hike and I had a hard time believing Daddy Hooligan would make it. Rob and Matt opted to stay behind but Anke and Adres were going so I figured I could walk with them.
According to our guidebook, the trail to Livingstone was known to have some thieves so I asked if our guide could bring along a second person, in case someone, maybe me, wanted to turn back. So, Washington, our guide, showed up with his brothers Alex and Patrick. Alex was officially the second guide but Patrick had come along to sell us his bracelets and earn money for his exams. The walk started easily enough, the Hooligans were in the front and the three of us were in the back. But, as the trail got steeper, mommy and daddy Hooligan started to fall back At the base of the steepest part they considered turning back and I was hopeful but they kept going. Daddy Hooligan had brought bags of candy and several books along in his backpack, which became too heavy for him to carry so one of our guides took it for him. The steep part was rather grueling at times but constantly waiting for the Hooligan parents made progress particularly slow. Once at the top of the steep part the trail ended onto a dirt road. The road had a mild gradient but we had to follow it for some time before we reached the waterfall. The waterfall was not particularly interesting to me and the "official" that was strategically planted there to collect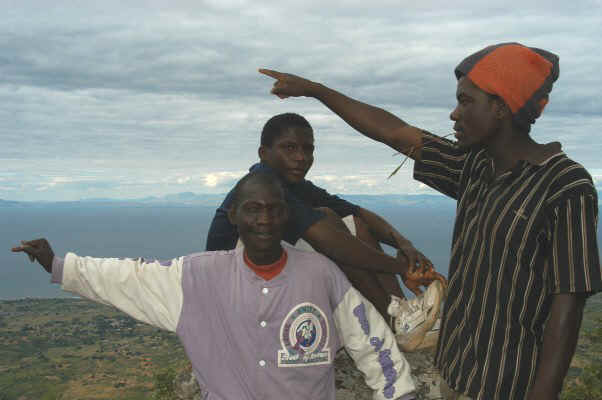 money from us for the local school was annoying. The day was starting to feel long and I just wanted get to the mission at the top of the hill.
There was still quite a ways to go up the road before we reached the top of the ridge where we could already see the mission. It really had to be longer than 7km, I told myself. Once at the mission there wasn't really very much to see but a handful of old colonial buildings and a small museum. We paid to visit the two room museum and then the museum charged us again to use the toilet, charging a higher price each time one of us went. The museum was sort of interesting but I can't deny feeling disappointed after the long day of hiking. At least it had been good to get some exercise and there were lovely views of the lake. The one thing I had hoped to do was visit the craft shop but Washington encouraged us to visit the museum first and, oddly enough, the craft shop was closed for lunch by the time we were done. Since Washington and his brothers also ran a craft shop outside the gate of Chitimba I had to wonder if that was on purpose.
Before heading back down we asked to stop for a drink. They took us to a small cafe where we ordered sodas, tea, and some doughnuts. It was a very simple little place with just wooden benches along the walls and some flimsy narrow tables but the woman who ran it was very friendly. For all of us, including the guides, to drink and eat it only cost about $2.50. As people started to divide the bill I just paid the woman. Daddy Hooligan looked shocked. It was just $2.50! I wasn't trying to be a big spender but, really, how could people try to split that bill. It was ridiculous and would have taken longer than it was worth.
In the museum we had seen a topographical map of the area and determined that our walk up was at least 9km, since it wasn't much less than that in a direct line on the map. Our trail back was shorter, cutting along a narrow trail through some fields, but it must still have been at least 7km. It was stop and go the whole way down. I didn't mind much until I started to have to go to the bathroom. Someone suggested the bushes but with local people around it didn't seem like a good idea. Finally I asked if one of the brothers could take me ahead. Andres and Anke came as well. But, somehow, we ended up sidetracked to see a dance practice in the village along the way. Groups of men and women were practicing separately. They weren't in traditional dress but the dancing was really good. The women were too shy to do much in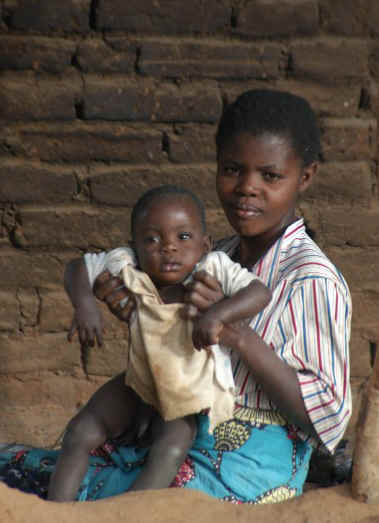 front of us but the men hammed it up a bit. One guy was particularly funny in his black fur hat with a tail hanging down his back (it was hot out but he looked cool), dark sunglasses, and a bright yellow basketball jersey that said "Hit Man" with the number 23 below. It was worth the stop but by the time I reached the campsite my legs were on autopilot to just get me to the toilet.
The youngest brother, Patrick, had carefully hit all of us up to buy his bracelets during the day. I told him I would come back out of the camp when everyone else was back to take another look at them. I didn't really need any more bracelets but selling something to raise money for his school fees showed initiative, and I think he was telling us the truth. He wasn't just begging and it made me want to support him. I ended up buying a bracelet and one of his hand painted postcards. He also asked for my address but I sort of danced around that one. He'd had a pen pal in the US but had lost touch with him. I couldn't really explain my situation with him and knew I wasn't in a position to be anyone's pen pal so I just tried to avoid the issue.
It was our last night at the lake and we just had one more to go before we reached Dar es Salaam. At the camp that night we met some interesting independent travelers to talk with. One couple were Brits emigrating to Australia and making a trip through Africa on their way to their new homeland. They'd spent three exhausting weeks traveling through Kenya and Tanzania and were beginning to consider an overland truck. The other couple were Australians who had taken an six month overland trip from Spain to Namibia and back up to Tanzania! That sounded like an amazing trip. They said Angola was the highlight.
It was my turn to clean the truck that night. When I got on board it was filthy, with most of the trash concentrated under the Hooligan children's seats. We hadn't even used the truck that day so I looked to see who was supposed to have cleaned it the night before. It was Daddy Hooligan. The next person on the list was Mommy Hooligan so I left it. She could clean up after her nasty brats.
SOUTH AFRICA
Cape Town
June 3-9
OVERLAND CAPE TO VIC (Photos Only)
NAMIBIA
Fish River Canyon
June 10-12
Sossuvlei
June 13-14
Solataire- Cape Cross
June 14-17
Sptizkoppe- Etosha
June 17-18
Etosha National Park
June 19-20
Nkwasi (Angola)
June 20-21
BOTSWANA
Okavango Delta
June 22
June 23-24
Chobe National Park
June 26 (I)
June 26 (II)
June 26 (III)
ZIMBABWE
Victoria Falls
June 27-28
June 29
ZAMBIA
Victoria Falls
June 30-July 1
Lusaka
July 2
MALAWI
Luwawa
July 3
Kande Beach
July 4-5
July 6
July 7
Chitimba
July 8
TANZANIA
Dar Es Salaam
July 9-11