July 3. ZAMBIA TO LUWAWA FOREST MALAWI Leaving Mama Rula's we were at the border between Zambia and Malawi in no time. Danie had us all tally up our money that we needed to change from Zambia kwacha into Malawi kwacha so he could change it for us on the black market at the border. We passed a piece of paper around and everyone wrote down the amount they were putting in the pile. It all happened very quickly. The money was counted on the floor of the truck as it was handed out to the money changers and we received a large wad of money back. It was after it all happened that Daddy Hooligan (the Scottish family's name was Holligan but we had all mistaken it for Hooligan so the name sort of stuck) realized that he put down the w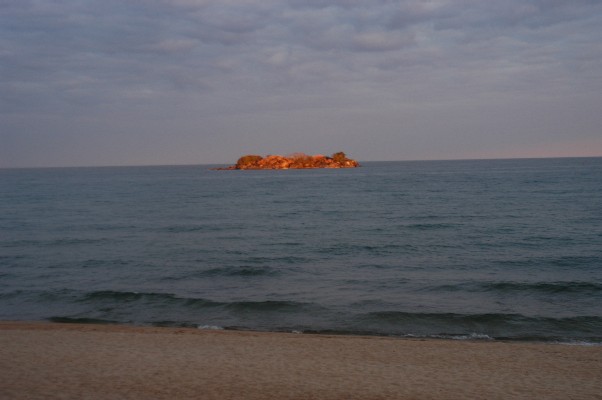 rong figure on the paper. Apparently he should have put down an extra zero and somehow he didn't get all of his money back in Malawi kwacha. The whole thing was fishy. We had counted and tallied the actually number of each denomination that we had put in the pile and ours had amounted to the largest sum. Daddy Hooligan suggested we all just split the difference based on how much we had contributed which meant we would eat most of the error that he made. That didn't fly with Rob but in the end he agreed to share the difference just to keep things cordial. Later that day I noticed that Daddy Hooligan couldn't even see the denominations on his money. He tried to pay for something at a mini mart by just throwing a bill down and had to wait for the cashier to point out that he was short. He bent all of the way over to squint at the register and then squint at his bill before he believed her. It seemed most likely that he had gotten all of his money back in the kwacha exchange and we had ended up giving him money that wasn't his at all. Naturally he didn't see it that way at all and was adamant that he wouldn't have any money left to exchange when we reached the next border.
The no-man's land between Zambia and Malawi stretched some twelve kilometers. There were houses in between but we couldn't tell if they were Zambian houses or Malawian houses. It was the longest border area I had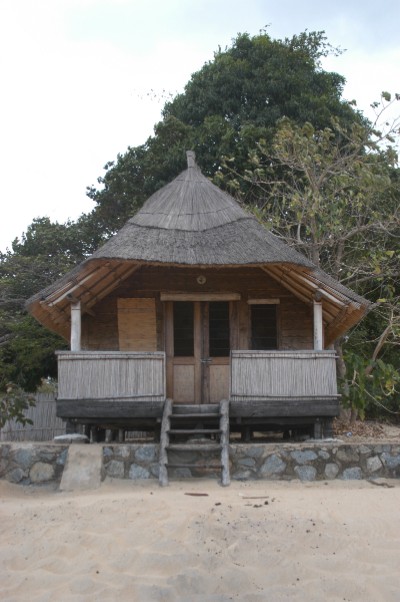 ever seen. Not long after the border we made a stop in the capital of Malawi, Llilongwe, so Lucinda could shop and the rest of us could change more money and pick up some snacks. The super markets in Malawi were less well stocked than many others we had encountered in our over-landing but they still had a pretty good selection of goods. Touts selling various things surrounded the truck when we arrived. Danie kept them busy talking and negotiated some bread and eggs through one of the guys. But, when the guy tried to increase the price on the food once delivery had been made Danie handed it all back to him. Lucinda was on her way back to buy the eggs and bread at the store when the man finally agreed to his original price. It was a tiresome process but one that our guides were used to handling.
Just outside Llilongwe we pulled along side the road to eat lunch. It was a rushed lunch so we didn't unpack the chairs. Lucinda worked quickly to put everything together and we all sensed the urgency. There weren't any villages in sight but a lone woman walking along the road came over to hover and beg for food. Danie eventually gave her a loaf of bread but it didn't easily make her go away. She didn't seem altogether there in the head. It was a bit sad. But, as good as the break from driving felt at that moment, I was starting to think that eating while the truck was going was not a bad idea. That way we didn't impose on anybody and weren't setting the image that overland trucks were there to hand out food. The value of the food was inconsequential but it seemed likely that it would increase the harassment of overland trucks. Danie always handled the situation smoothly for our benefit and if we stopped there was probably little else they could do.
Our destination for the day was a place called Luwawa forest and it turned into another really long nine hour day of driving to get there. All of these long days in the truck were getting really tiring. The truck had more leg room and we were able to rest our feet on the cooler in between the back seats but Phumbu was a bumpier truck than Stevie and the back seat was the bumpiest place of all. When we finally turned off of the highway to reach the forest camp ground it was another good hour of bumping along on a dirt road before we arrived at the camping are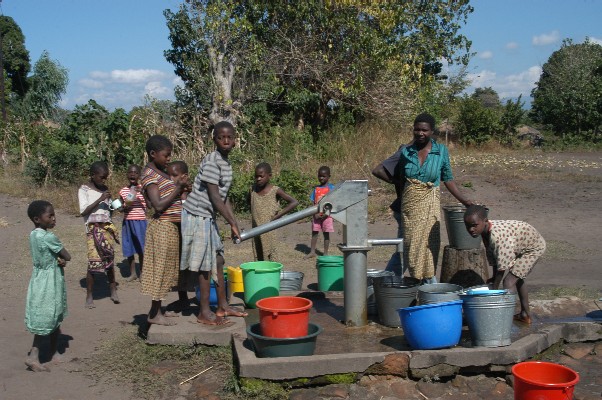 a. How this place ever got chosen for a stop on the itinerary, let alone two, is a total mystery. The forest was somewhat reminiscent of forests back home except that it was all man made and the trees were planted unnaturally close together. On top of that they actual camping facilities were the worst we had seen yet. Some bike event was underway so the camping spaces were full which left us with the lodge dormitory, a dirty old room full of bunk beds. Many of the beds had rat pellets on the covers and probably hadn't been slept in for ages, and for good reason! If the nasty bunks weren't inviting enough we knew that Daddy Hooligan snored up a storm so we elected to sleep in Phumbu.
Danie and Lucinda had set our expectations for Luwawa Forest and if it had been up to them we would have skipped it all together but the itinerary was set by Cape Town and they couldn't change it without written consent from all of us. Once we saw the camping area we were quick to sign off on not staying there a second night. We were even eager to get off early in the morning and make it to Kande Beach on Lake Malawi as soon as possible. The truck got quite cold at night but we never questioned our decision to sleep there instead of the dorm.