June 3-9. CAPE TOWN We arrived in Cape Town around midday after our long flight from Istanbul. Our circus of flights had been very tiring at the beginning, going from Madrid to Munich to Istanbul to Frankfurt and finally on to Cape Town, but once on the plane to Cape Town we were able to get some sleep. The South African man who sat on the far side of Rob kept him entertained with stories of Africa and his sixteen bouts with Malaria! Our plan stopped first in Jo'berg but we didn't get off. Most of the plane emptied out and there was just over an hour left to Cape Town. The plane flew over the famous Kimberly mines, a cavernous hole in the ground that made Cecil Rhodes and De Beers famous names in the diamond mining world, and perpetuated a nearly slave-like work environment for many black South Africans. Unfortunately the plane flew directly over the great hole so we only got a glimpse of the edge. Our South African friend had u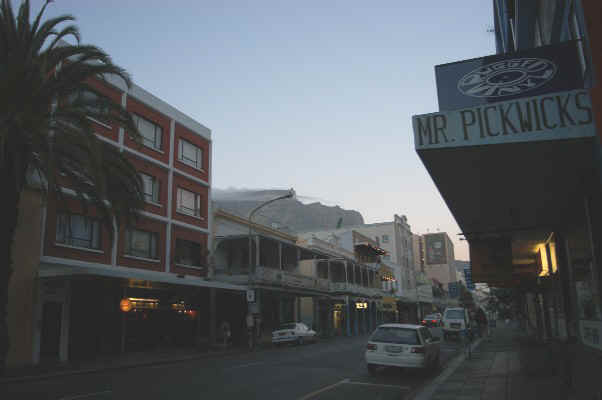 s going from window to window to get a look but it never came into full view.
The Cape Town airport was a drive outside of the city so we had to catch a shuttle into the center of town. The weather was clear and fairly warm for early winter. We had heard great things about the city on the Cape, often compared to San Francisco and Sydney, but coming into town we passed the townships, neat rows of metal shacks all stacked up next to each other. It was a meager existence for many in South Africa and change was slow to happen. Nelson Mandela's forgiving and forward thinking leadership has enabled the country to maintain a peaceful existence since the end of apartheid but only time would tell if it would last. As we got closer to down town we could see how Cape Town's austere table mountain towered over the city. The massive flat topped rock of a mountain dwarfed the city which was tucked around the base of the mountain and out to the ocean.
We asked to be dropped at a hotel on Long Street, a hip area near down town that was cluttered with small hotels, hostels, bar and cafes. But, the city's reputation of crime kept us on guard from the beginning. It didn't take long to notice that every shop, hotel, and cafe had bared up windows and many required that you be buzzed in before you could enter. And, this was a good area! We weren't very scrutinizing about our fist night's lodging, just anxious to get off of the streets with our conspicuous bags. Afterwards we went around to check out other options, which weren't great for the price. From Long Street we walked towards the Victoria and Albert Waterfront to look at a couple of other places. The V&A Waterfront was a nicely restored area along the quays with an assortment of shops and restaurants, and it felt relatively safe. In fact it felt very much like a waterfront mall back home.
The following day we made a change to a hostel called St. John's Waterfront, just above the V&A. It wasn't much cheaper but after the loud noise from the bars on Long Street during the night before and the general unsafe feeling of the area we were just glad to change. The Ricky's, a shared taxi service proved to be slightly cheaper way to get around Cape Town's really overpriced taxis. They served to get us back and forth to Long Street for some breakfasts a Mr. Pickwick's and to check out overland companies. Otherwise, we spent much of our time at the V&A. But, in spite of our hostel's close proximity to the waterfront, only a ten minute walk, we were advised to take a taxi home after dark so we wouldn't get mugged. Fortunately the waterfront was an easy place to spend the day and had most of the shops and services that we needed to get ready for our overland trip, as well as a couple of movie theaters.
After looking in to the cost of transportation and lodging to get around Southern Africa on our own we figured out that taking an overland truck was really the best option, We looked a couple of companies but ended up going with a well known and long established company called Nomad. It took us several days to consider our options, making frequent visits to Long Street to talk with Nomad. The next tour left on June 9th and connected to another trip in Victoria Falls, Zimbabwe, that could take us all of the way to Dar es Salaam in Tanzania. We weren't entirely sure about the over landing experience but took a leap of faith and signed up for 31 days of trucking it to Dar. Unfortunately, all of our time spent planning and preparing detracted from our seeing much of the Cape Town area. The weather was poor as well and the high cost of transport was another deterrent. In the week that we were there we had few opportunities to visit Table Mountain, make a township tour, go to Cape Point or visit the island where Nelson Mandela was imprisoned up until the end of apartheid. None of these activities were very appealing in the cold, rainy weather. So, we just whittled away at our errands, took in some movies, ate some really nice food, and got ready to spend the next month camping with a group of strangers. Our flight back to Istanbul left from Cape Town on September 1st. We envisioned seeing more when we came back down to South Africa, but we were also aware that our plans could change and this might be all we would see of Cape Town.
On June 9th we showed up early in the morning to join our overland group. Our guides, Bruce and Mandla, were there to greet us and it was quickly apparent that we were at the older end of the age for the group. Our overland truck, Stevie, was an enormous, modified Mercedes truck with rows of seats and overhead storage for our backpacks. A hole between the back of the truck and the cab allowed us to talk with our guides and Bruce demonstrated that he would climb in and out of the cab to give us information along the way. Mandla had tasked with the driving. Also along was an Argentinean woman named Maria Inez, on her training trip, and a new sales person from the Nomad office, Isabel. With all of the staff we were eighteen, not entirely filling the truck so there was a bit of extra room. Besides us and the staff the group consisted of four Australians (Michael, Dominique, Stephan and Andrea), three other Americans (Bethany, Matt, and Mika), a Danish couple (Roberto and Lisbeth), a Brit (Adam), a Korean guy (Lee), and a crazy Spaniard (Juan Carlo).
Naturally the weather was great, now that we were leaving Cape Town, but that did afford us a nice view of the city as we stopped on our way out of town. It was just day one of 31 and we really didn't know what to expect over the coming month but it was definitely a change from our typical style of travel and there was something very relaxing about having someone else take care of the details for a while.
SOUTH AFRICA
Cape Town
June 3-9
OVERLAND CAPE TO VIC (Photos Only)
NAMIBIA
Fish River Canyon
June 10-12
Sossuvlei
June 13-14
Solataire- Cape Cross
June 14-17
Sptizkoppe- Etosha
June 17-18
Etosha National Park
June 19-20
Nkwasi (Angola)
June 20-21
BOTSWANA
Okavango Delta
June 22
June 23-24
Chobe National Park
June 26 (I)
June 26 (II)
June 26 (III)
ZIMBABWE
Victoria Falls
June 27-28
June 29
ZAMBIA
Victoria Falls
June 30-July 1
Lusaka
July 2
MALAWI
Luwawa
July 3
Kande Beach
July 4-5
July 6
July 7
Chitimba
July 8
TANZANIA
Dar Es Salaam
July 9-11