July 7. KANDE TO CHITIMBA, LAKE MALAWI Our restful time in Kande beach had come to an end. Of course we wanted to stay longer. It was a great life, in a bungalow along Lake Malawi, but the overland thing was starting to wear on us and we were starting to feel anxious for it to be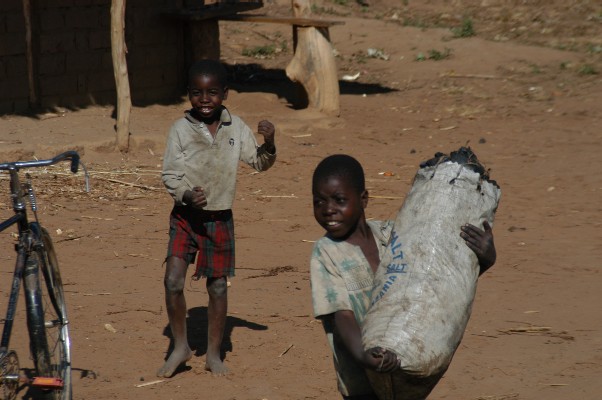 over. On the way away from the lake we stopped at the curio market again. In exchange for three of the blankets we had bought in Cape Town Rob and a pair of unused socks Rob negotiated a hand carved bao table, a small folding table with a reversible top that had animals carved on one side and the local bao game on the other. Bao was a came that involved moving seeds from hole to hole in the board, capturing your opponent along the way. We didn't really know how to play the game but the table seemed like a good souvenir. They also had similar tables for chess and backgammon but we didn't find one that we really liked. Still, I loved the chess pieces carved into African figures and animals. Rob was caught up in playing hardball in his negotiations and time was running out. He was prepared to walk away but , in the end, I said I had to have one of the chess sets so we probably paid more than we should have.
We returned to the same town where we had stopped on our drive to Kande beach. The same young boys were selling the same batiks and bracelets. I had bought a similar bracelet at the curio market and showed them I already had one. One of the boys reminded me that I told him I didn't need one when had first passed through town. He had me there. I felt guilty. I didn't really need the one I had either but had been enticed into it at the curio market. We ended up buying more bracelets. In fact Rob got off the bus and spent a lot of time negotiating with the boys, making them demonstrating their math skills before he bought something. He showed them how to negotiate to get more from people. The boys listened pretty intently and he was quite engaged with them by the time we left. I think we had almost twelve bracelets by then. He had even traded our extra pens and a box of juice.
Danie and Lucinda took us to a local market on the way out of town. It was rows and rows of little shacks and stalls that sold everything from food to shoes. It wasn't too big but kept us all entertained for a good half hour or more. I bought a local cure for aches and pains from the medicine man. It sounded like an interesting idea at the time but what I got looked an awful lot like sawdust. It was made from trees and roots so I guess sawdust is what it amounted to in the end. In a small square in front of the truck we found some locally made cloths that women used to wrap around themselves. One struck us because it had a big Coca Cola symbol on it. It was a kitschy thing to buy but this strange bit of Americana was too tempting to pass up. At a nearby shop we found a matching one with the Pepsi symbol.
Our next campsite was also along Lake Malawi but on the northern end, opposite Tanzania. At Kande we were sitting across from Mozambique, although we couldn't see land. It wasn't a long drive but after all of the stops the day was starting to get long and it was well past lunch time. We made a lunch stop at a bend in the road that looked out across the lake. It was a scenic stop for lunch but it didn't take long before we were absolutely mobbed with local people. At first they sat patiently and watched as Lucinda set up the food. I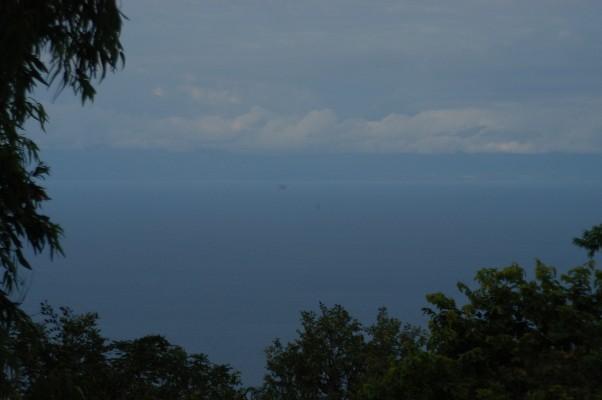 could tell she was fed up with these situations. There were so many of them that I ended up eating inside the truck because it was uncomfortable. They were mostly school children, like an entire class had come out to watch us. Eventually Danie directed them to the back of the truck where he passed out some bread and biscuits. These weren't starving people, by any means, but they had grown accustomed to getting things from the overland trucks and Danie said if we didn't give them something they might start throwing rocks. More kept arriving but finally Danie closed up the back of the truck. As he did so he was slapped on the back by a woman who wanted more. She wasn't a real threat but the spectacle was something to watch. I engrained in my mind the consequences of giving things to people just to be nice.
Danie and Lucinda had told us about the camp site in Northern Malawi. While our itinerary indicated a different camp they wanted to take us to Chitimba. It used to be the preferred camp until they'd had a shoot up about two months earlier. The robbers, local men in cahoots with the police and all doped up on drugs, forced their way into the campsite with guns and demanded all of the money. They knew that the trucks had safes and made sure they were opened. They were particularly hard on the guides but nobody was killed or seriously hurt, or so we were told. However, for kicks, they shot up the inside of a truck before they left. Fortunately, they didn't make it far and supposedly they had been tried and sent to jail. Danie and Lucinda told us all this and then suggested that we still use Chitimba. In their experience a repeat of something like that in the same place was very unlikely, the robbers had been caught, other trucks had started to go back there, and the alternative campsite was really bad. We trusted them and agreed to go to Chitimba.
When we arrived we saw a sign saying the camp was protected with armed guards. I guess that should have made us feel more comfortable? The campsite wasn't nearly as nice as Kande but was fine. We upgraded again but they bungalow was really shabby. It was almost comical to watch the Hooligans mull over the idea of upgrading. The weather looked like rain so upgrading seemed like a pretty good idea. It was all of $4 per room for the upgrade, of which they needed two, but Daddy Hooligan looked like he was being fleeced. In the end they made the upgrade and then probably consumed four times that in beer during the evening. I was counting the days until we didn't have to see them anymore.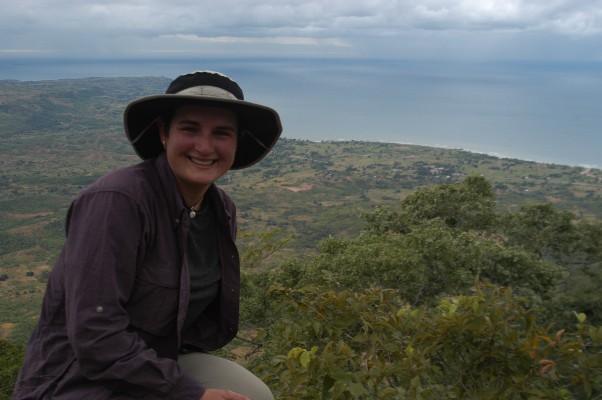 On the ride up to Chitimba, Mommy Hooligan had asked to sit with me. We'd had our own seats so I agreed but she was so annoying that I regretted it later. The comments she made about the local people were shockingly ignorant and at least borderline racist. She couldn't fathom how the local people got around but we passed one bulging minibus after another and she had just told me that her own daughter (another one that wasn't on the trip) had traveled through Malawi on her own using local transport. Then she went on about how the people in Malawi don't properly tenderize their meat. In Scotland, she said, they hang their pheasants to tenderize them. I suggested that as the tenth poorest country in the world they probably didn't have that luxury. Beside hanging meat in a hot climate seemed unwise. She still didn't get it. She had actually lived in Rhodesia and South Africa when she was younger but was amazed to see meat hanging in the open when we passed through a town. Then she complained about the body odor. Why didn't they use deodorant? Perhaps because it cost as much as a week's worth of food and to them it is quite normal to experience body odor. That one really got me. This woman would belch like sailor without an "excuse me" and her husband farted for entertainment but she was offended by body odor! Please, get me to Tanzania quickly!
The guy who ran Chitimba was sort of a sleaze and didn't want to let us credit our camping fees, paid to him through Nomad, towards the bungalows. So, Danie and Lucinda paid for the rooms and we gave them the money. It wasn't really a very nice place so I couldn't imagine what the alternative would have been. The evening was a total bore. Rob made a campfire and we sat there for a while. Andres joined us for a bit but everyone else went to bed early.
SOUTH AFRICA
Cape Town
June 3-9
OVERLAND CAPE TO VIC (Photos Only)
NAMIBIA
Fish River Canyon
June 10-12
Sossuvlei
June 13-14
Solataire- Cape Cross
June 14-17
Sptizkoppe- Etosha
June 17-18
Etosha National Park
June 19-20
Nkwasi (Angola)
June 20-21
BOTSWANA
Okavango Delta
June 22
June 23-24
Chobe National Park
June 26 (I)
June 26 (II)
June 26 (III)
ZIMBABWE
Victoria Falls
June 27-28
June 29
ZAMBIA
Victoria Falls
June 30-July 1
Lusaka
July 2
MALAWI
Luwawa
July 3
Kande Beach
July 4-5
July 6
July 7
Chitimba
July 8
TANZANIA
Dar Es Salaam
July 9-11