October 7. LALIBELA TO AKSUM Our flight to Aksum didn't leave until the afternoon but we just didn't have it in us to go back and see more of the monasteries. Instead we just had breakfast at the same hotel and sat in their lobby to watch the news. It was a safe place away from the flies that plagued every time we went outside. While we were sitting there we saw an older Italian couple come inside. We had seen them a couple of times during our stay. They looked exasperated. She was waiving her hands vigorously in front of her face as she came through the door. When she saw me she gestured with her hands to show how irritated she was with the flies. I nodded vigorously. It was hard to take when you weren't used to it.
Solomon arranged for a van to pick us up and take us to the airport. We had discussed visiting a monastery outside the city on the way to the airport but it proved to be too much for our budget. The only real option was to visit the church we had seen on our way into town and while the a ride to the airport would cost us around 30birr per person it would cost about 200birr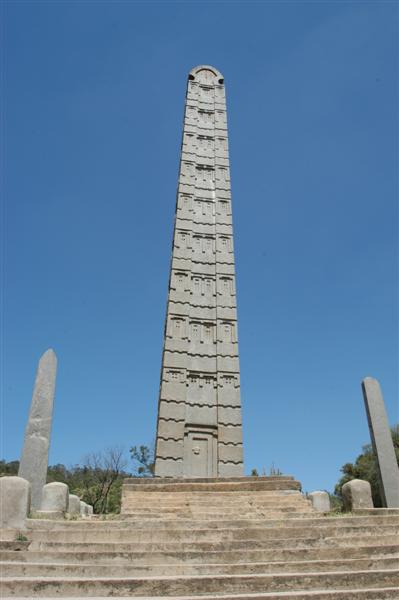 for the privilege of stopping at the church.
We waited in the small restaurant at our hotel for the van to arrive. A woman was making traditional coffee for a group of local people. The TV was on, showing Tony Blair's speech regarding Ethiopia. He was currently in Addis, probably at that Sheraton, and was promoting the idea of "Trade not Aid" to improve the country's economic level. I agreed with "Trade not Aid" philosophy, outside periods of emergencies like famine, but I also thought that tourism offered great potential for Ethiopia. However, all through Tony Blair's speech there were references to the famine and they showed the same devastating pictures that I had seen on TV when I was a kid. Famine is a sad part of Ethiopia's history but that searing image of starving people with flies swarming around their faces does not encourage people to come visit the country! Well, the flies are an ongoing problem, but Ethiopia is not currently suffering a famine! Where were the images of the county's greener pastures, incredible historical monuments, and unique cultural attributes? That is what more people need to see. Famine is still a risk in Ethiopia but they need to break through the stigma of being just seen as a starving country. The western media isn't doing them any favors by presenting such a narrow image of the country just so they can get guilty viewers glued to their networks for ratings.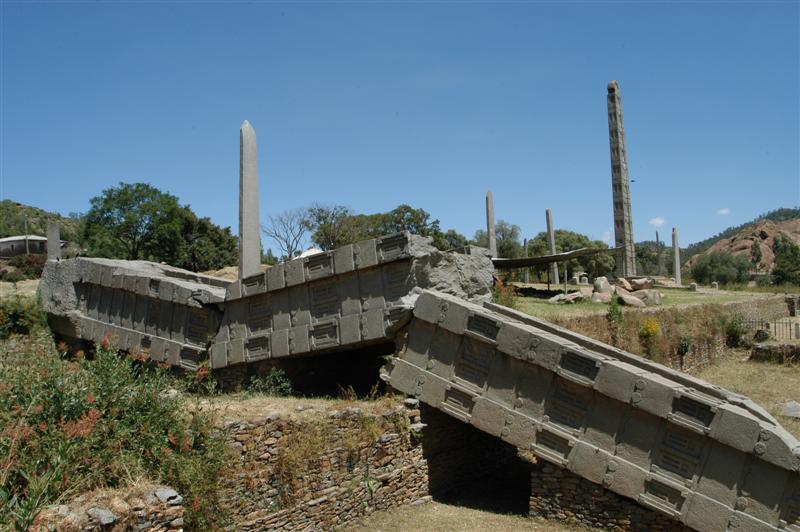 Another man joined our van ride to the airport, a well-traveled British fellow. It was just the three of us, the driver, Solomon, and a local woman. From the outset we knew that our driver hadn't been to charm school but it was just a ride to the airport so we didn't care that much. But, it started to become more of an issue as we got farther out of town. The van kept pulling over when the driver saw people along the road. It turned out that they were asking if the Ethiopian Air jeep had already driven past. After asking a few people they still didn't have any confirmation that the jeep was headed to the airport. At that point our driver wanted to turn back. We complained because none of us were too keen on missing our flight because a few locals hadn't seen the Ethiopian Air jeep. The driver was short on patience and went on about how the airport wouldn't open unless the Ethiopian Air staff had arrived and he didn't want to be waiting outside the airport. He was far more concerned about his comfort than whether we made our flights or not. We pressured him to keep going but not without receiving a good dose of nastiness. The van was already running late for the British fellow to make the check-in for his flight and we didn't particularly care whether we waited outside the airport or back at o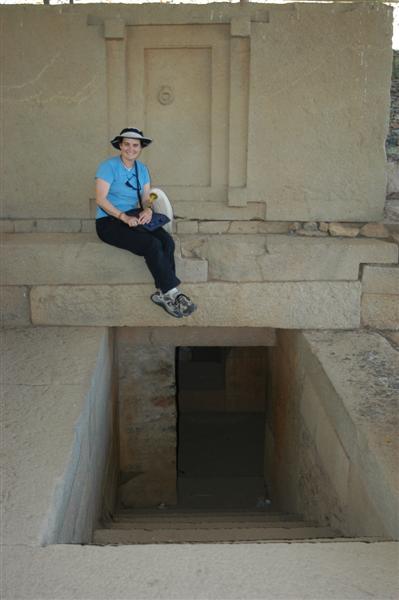 ur hotel. Flies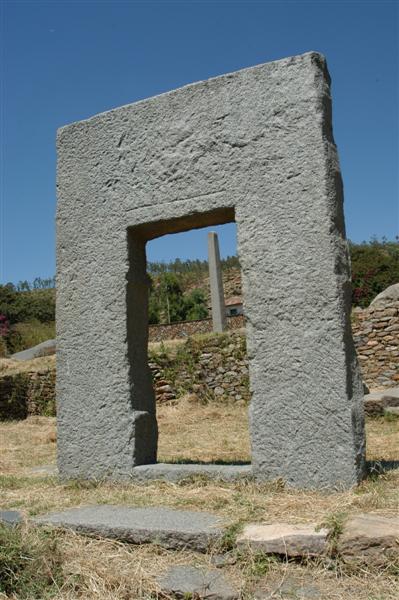 are flies as far as I was concerned. Our driver reinforced his good impression when he stopped the van in front of two small children. They had armfuls of what looked like sugar cane. The driver grabbed some, handed it around to the local lady and Solomon, and then drove off without giving the children anything. I hardly thought these kids were standing alongside the road in their raggedy clothing to give away sugar cane. Up until then the driver had just been a real jerk but he moved down several notches in my book after that incident and Solomon was right there with him.
Finally we arrived at the airport and it was closed. A rope was tied across the entrance so the driver pulled our van up to a small kiosk just outside the gate. Naturally the driver was really ticked off but I found it rather amusing. The flies were relentless but I could have sat in a room full of flies if it meant the satisfaction of watching this guy get pissed to the point of combustion. We just put our fly whisks to good use and chatted with the British fellow. As it turned out he would have been up for stopping at a monastery on the way to the airport as well but it seems that Solomon couldn't have been bothered to sort that out. If he wasn't going to get an exorbitant fee for renting out his own jeep he just couldn't be bothered. The fame he got from the guidebook gave him an arrogance that translated into apathy. And he was just
too good to share that wealth with two poor kids selling sugar cane alongside the road.
Ethiopian Air was notorious for delays so it wasn't so surprising that the airport was closed. I am sure people had spent hours waiting for flights at that kiosk outside the gate but we had confirmed our flight that day and had no reason to believe our irascible and lazy driver or the unhelpful Solomon. But, as it turned out we only waited about fifteen minutes before the Ethiopian Air jeep arrived and the airport entrance opened up. Once we got to the check in counter we really began to understand why our driver and Solomon had been so keen to turn around and go back to Lalibela. The airline had called the hotel and told Solomon that the flight the British fellow was taking had been delayed. He didn't pass the info along because he didn't want the guy to arrange for a later ride to the airport. So, while we all thought that we needed to rush to the airport for this guy's flight, they knew all along that it had been delayed. Our flight was delayed a bit as well but ended up leaving before the British guy's flight. Solomon knew it was safe to turn back because the only unknown was our flight departure. It turned out that our driver and the local lady ran souvenir shops at the airport so if you ever visit Lalibela don't buy anything at the airport shops and don't give Solomon any business!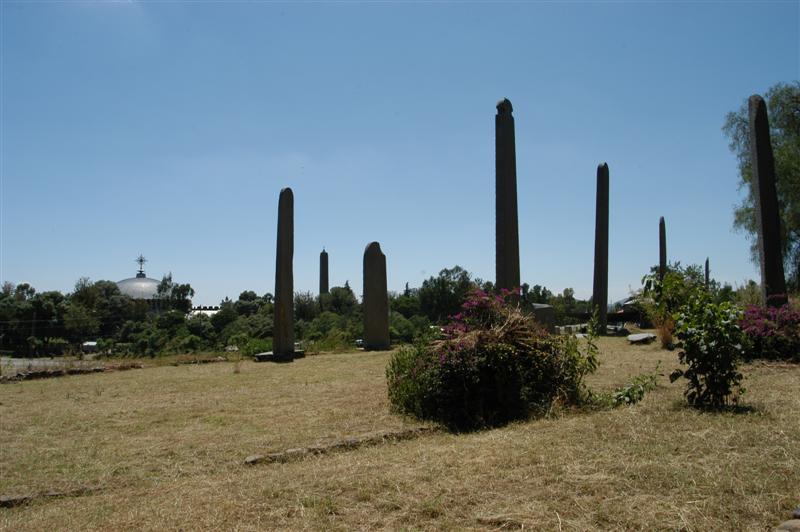 The flight to Aksum was just under an hour. We met three British teachers at the airport and shared a ride with them to the hotel. They were all on the VOS (volunteer overseas) program and were teaching in southern Ethiopia for two years. Their local savvy and language skills helped to negotiate a discount on the ride to town. We all ended up staying at the Africa Hotel, a very basic but clean place at the end of town. Not far from the hotel there was a traditional Ethiopian style restaurant, the Habesha Restaurant, with outdoor seating and loud music. The weather in Aksum was dry, which went with the flat, dusty landscape. We found it a welcomed relief after the more humid climate in Lalibela. The sun was still out when we went for dinner and we were able to enjoy sitting outside without the bother of flies! And, during our walk from the hotel to the restaurant we didn't experience any hassles, just smiles and greetings. We liked Aksum already!