October 6. LALIBELA "A Labyrinth of Rock-hewn Churches" We returned to the Hotel Roha for breakfast. The view from the back of the hotel grounds was lovely. The surrounding green hills were so unlike anything that I ever imagined in Ethiopia, the land of famine and desert. There was plenty of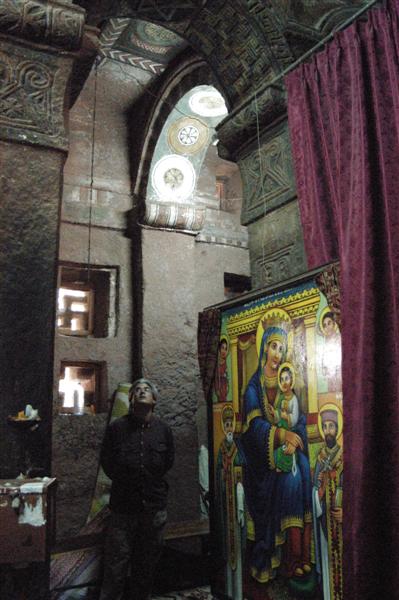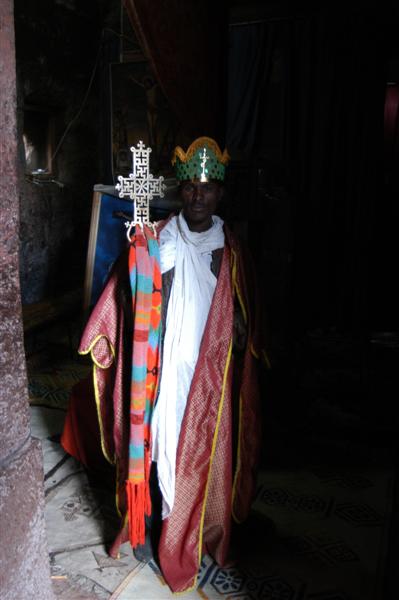 land to produce for this country if they could just get a handle on effective distribution.
Our plans for Lalibela were difficult to finalize until we knew when were be flying to Aksum. We hiked back up to the top of town to check in with the Ethiopian Air office. On the way we stopped at a souvenir shop and bought fly whisks, horse tail hair knotted to the end of a stick, that people used to keep flies off their faces. Going up the hill it started to rain so we stopped in for a soda at a small market across from the entrance to the churches. There we met a young man named Mareg, probably around ten or eleven. He was a charming little guy who spoke English well and was eager to practice. He showed us letters from other tourists he had met over the years and shared with us his ambitions of being a doctor. There were people in Germany who were going to help him go to school there, he told us. He wasn't hitting us up for anything but just seemed to want the stimulation. His father looked over at him from time to time with a proud look in his eyes. We commented on how smart he was and well he spoke English. He smiled and said, "Yes, my teacher says I am very clever." When we told him that we used to live in Japan he was curious and wanted to know some words in Japanese. I wrote some phrases down for him on a piece of paper - numbers, his name in Japanese, and some basic questions and answers. He was such a bright light that it was hard not to feel for the difficulty of his situation. His country needed smart kids like Mareg but would he have an opportunity to really excel in this environment. We said good-bye and told him we would visit again later.
The Ethiopian Air office still didn't know about our flight so we had to try back again later. In the meantime we visited the Blu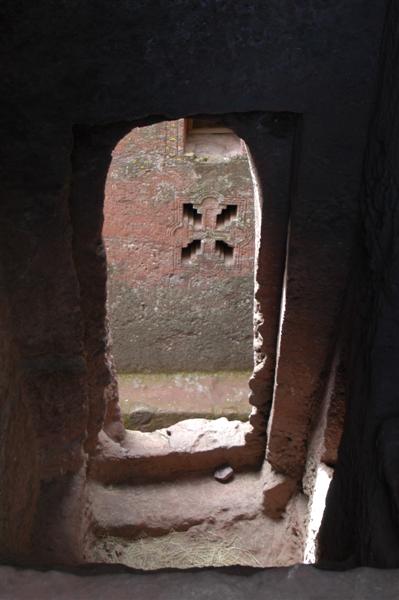 e Nile restaurant, just above the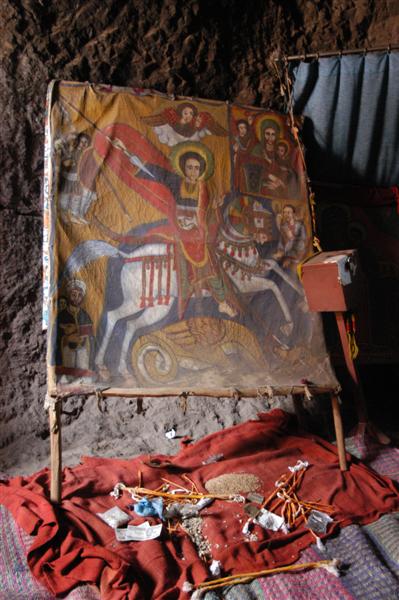 entrance to the churches. We had a Blue Nile restaurant in Berkeley, California so we had to give it a try. Outside we noticed orange shirt from the day before. He gave us a cheeky smile but we just ignored him. The restaurant had nice views over Lalibela but was a simple place, with traditional tables and a wooden floor sprinkled with long grass. It had the atmosphere that the Hotel Roha certainly lacked. It was raining so we waited it out inside the restaurant. We ordered some snacks and then stayed to watch an Ethiopian coffee ceremony. Cultural ceremonies always interested me so I was delighted. A young woman appeared, dressed in a traditional white gabi, and sat in front of a tray full of small cups and a small stove. Using a metal plate she roasted the green beans right in front of us. When the were dark and smoking she walked the plate around for each person to take in the delicious aroma. She then disappeared to grind the beans but returning with her wooden mortar and pestle to demonstrate the rhythmical thump of the grinding method. Hot water was boiled on the stove and then put into a traditional coffee pot. The grounds were added followed by a small bit of water to wash any remaining grounds down the neck of the coffee pot. During the ceremony the young woman occasionally threw gum onto an incense burner to add to the aromatic experience. The coffee was served in tiny cups, sweeten with three spoons of sugar. Typically three separate servings are made from the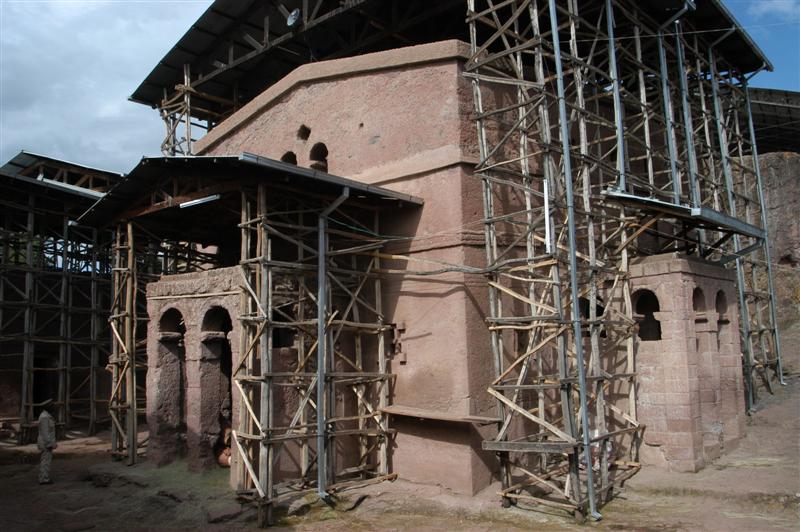 same beans, each weaker than the previous, and guests are expected to partake in all three. The third cup is meant to bestow a blessing on the drinker.
Fully wired on our three cups of coffee we finally went back to Ethiopian Air to check on our flight. We wanted a flight out on the 8th but only the 9th or 7th were available. We talked it over briefly but were both in the same mindset so we took the earlier flight. It meant we had to hurry to see the rest of the churches but something told us that our patience were getting too thin for many more days in Lalibela. We hurried back down the hill and made another visit to Mareg. In just the couple of hours since we had last seen him, he had already memorized the Japanese I had written down and was practicing the characters. It was impressive. We told him that we had to leave the following day but that we hoped to keep in touch with him and exchanged addresses.
Now we were sort of on a mission and had just one afternoon to visit the rest of the churches. With our rushed schedule a guide seemed like a poor investment so we just plowed ahead on our own. Starting in the courtyard of Bet Maryam we first went into Bet Meskel, a small church built into the wall of the court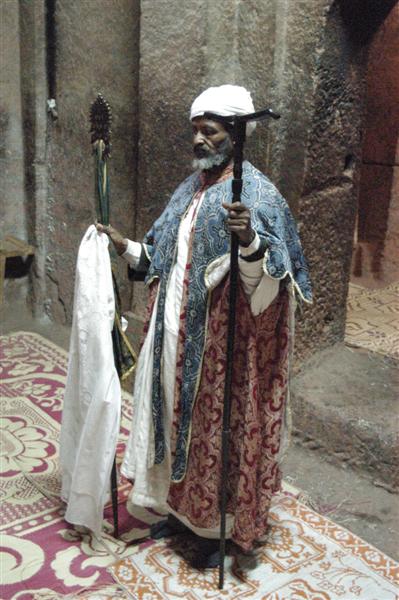 yard. It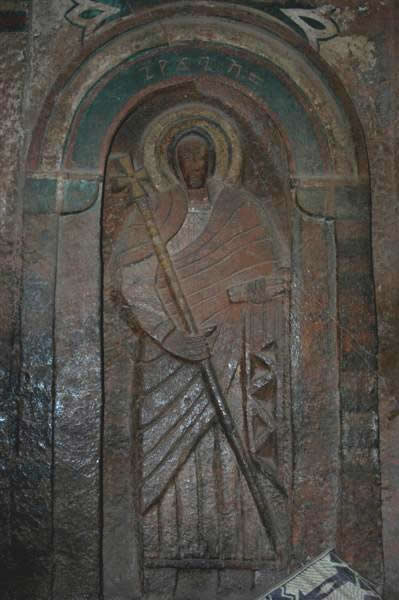 was really little more than a large closet in terms of size but the attending priest was friendly and there were a few things to see. The little church was divided into two tiny room so it didn't take long to look around. We didn't want to be so rushed that we were rude so we did sit for a moment and looked at an antique cabinet tucked under the front altar. The guard standing in front of Bet Maryam motioned that we didn't have to put our shoes back on and just motioned us to the door of the next church. We stashed our shoes to the side and went into the church. It was empty except for a priest who was quietly praying off to the side. We moved quietly so as not to disturb him while we looked at the painted walls. Unlike the colorful monasteries of Lake Tana the Lalibela churches weren't known for their interior paintings but Bet Maryam was the exception. Much bigger than Bet Meskel but significantly smaller than Bet Medhane Alem the three projected porches of Bet Maryam were roomy but intimate. The frescos were surprisingly colorful for their age. We sat on a bench off to the side and searched the walls with our eyes. Just near us was an image of St. Giyorgis fighting his dragon. Carpets covered the floors of all of the churches and the guidebook advised wearing flea powder on your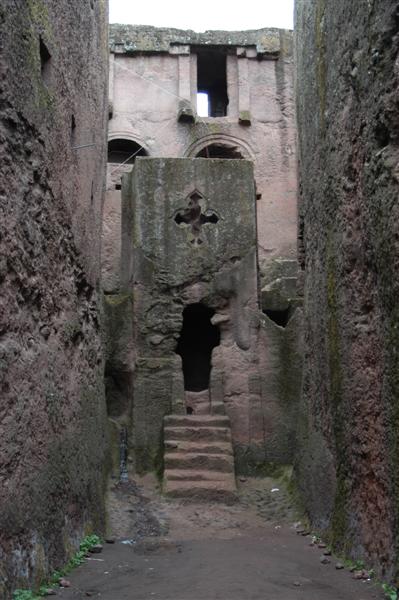 socks to fend off the fleas that supposedly festered in these carpets. We never found any flea powder so we wore two pair of socks but we never saw signs of fleas. Perhaps enough tourist traipsed through in flea powder laden socks to eliminate the problem or, more likely, they were getting enough money from all of this to have taken care of the problem.
Tiptoeing out of the Bet Maryam we investigated the back of the courtyard where an opening led out to a sheer wall. Below the wall was the tomb of Adam but you certainly didn't reach it from that door. We had now made it around to the last wall where another tunnel led out of the courtyard. In the courtyard wall, just next to the tunnel, was Bet Danaghel. There was very little to see inside but a large icon and a colorfully dressed priest. He asked us to take a photo but then ruined the gesture by asking for money afterwards. We had been offering donations to each church and knew tipping for photos and assistance was expected but this guy took it a step farther. He was "selling" his photograph to tourists without being upfront about it. It seemed rather underhanded so we didn't offer a donation or pay for his photograph.
The tunnel led to another trench that stretched along the outer wall of Bet Maryam's courtyard. Following a pathway along the trench we encountered another small group of chapels, Bet Golgotha, Bet Mikael, and the Selassie Chapel. Bet Mikael and the Selassie Chapel appeared to be closed because we only found one chapel open and it fit the description Bet Golgotha. I wasn't allowed into the main chamber of the chapel (no women) but they let Rob take some photos of some lovely relief images and the tomb of King Lalibela. A visit to the tomb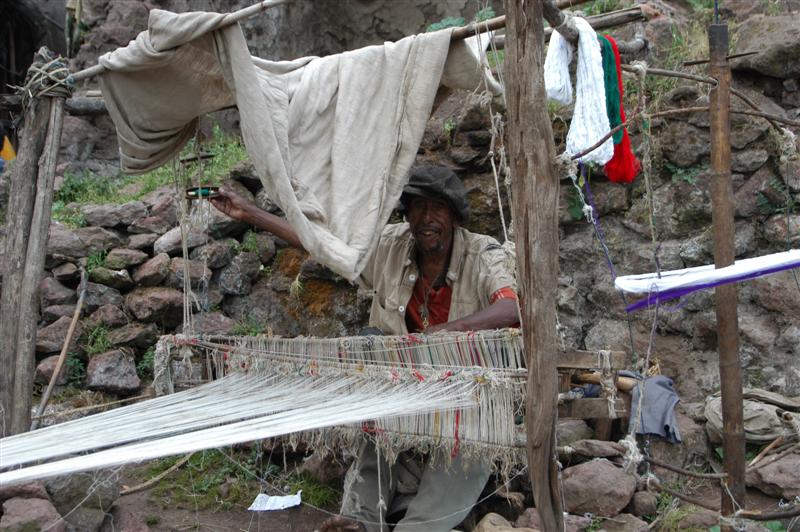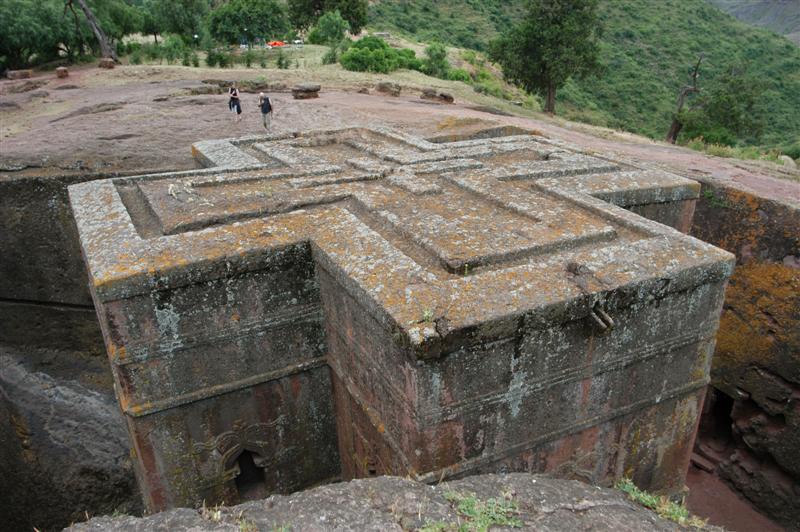 is meant to assure your place in heaven. While we were visiting the chapel another couple came in with a guide. Upon seeing them the priest promptly materialized a dark cross. So, it seemed that the important items only came out when there was a guide along. That little bit of information had been left out of the guidebook. We were regretting a bit that we didn't have a guide but it seemed too late to go back and get one now. But it did seem a bit unfair to give such preferential treatment to just those who had guides. The priest did his best to keep us from getting a good look at the cross but we heard the guide describe the ornate crown around the top of the cross symbolized the twelve apostles. I had a donation already prepared for the chapel but changed my mind after that. (continued...)