October 4. BAHAR DAR - GONDER Let me start this by saying that this was our last bus trip in Africa and it came none too soon! We were waiting in the hotel lobby when the van pulled up. It was 5am and the van was empty. We put our stuff and ourselves in the back seat. The van rolled through town and queued up behind a jeep that was waiting for passengers. It began to dawn on us that they would fill this van until it was ready to explode. Just because we paid the price of a jeep didn't mean that this was going to be a comfortable van ride. If there was a buck to be had and space for a body then they would cram someone in. We should have known better but when Daniel told us about it the ride sounded different. He said they wanted to get some people in the van so they could leave as early as possible. As it was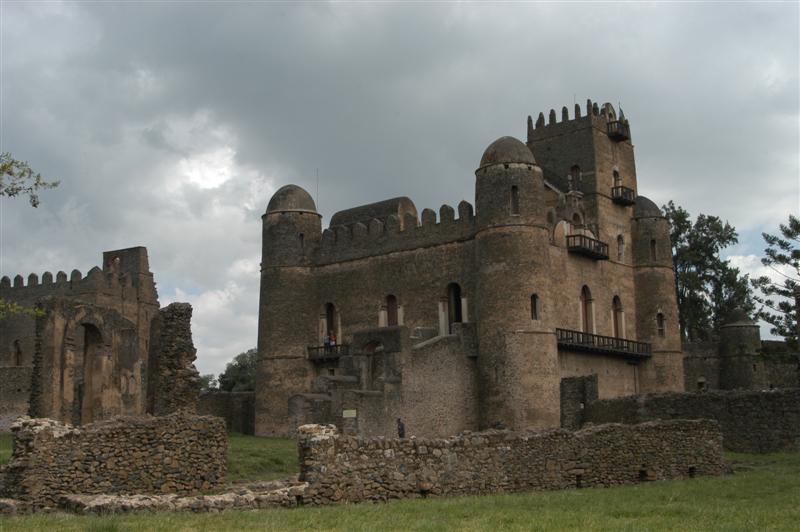 we waited another hour before the van finally started out of Bahar Dar. The road was paved for a little while and then it was dirt, or rather mud since it had been raining.
After we got out of town they started to collect the money. Rob had reconfirmed what we owed them when we got into the van but the conversation apparently didn't compute. A different guy had jumped on board and was handling the money. Daniel told us that we owed a final 25birr each to the driver, that a down payment had already been made to reserve our space. They were collecting 30birr from the other passengers but when they got to us we just handed over the 25birr each. The money guy started hassling us for the rest. At this point we were crammed in the back seat with all of our luggage. It had taken some convincing to get them to let us keep our bags inside, since it had been raining, but it wasn't very comfortable. We were pretty pissed that we had paid as much as a jeep and could have caught this van on our own for just 30birr each. In total we paid 60 each! We communicated this to the money guy but he eyed us suspiciously. The other passengers were giving us the eye as well. We thought they were ripping us off and they thought we were ripping them off. It was an uncomfortable situation but we held our ground. We told them we had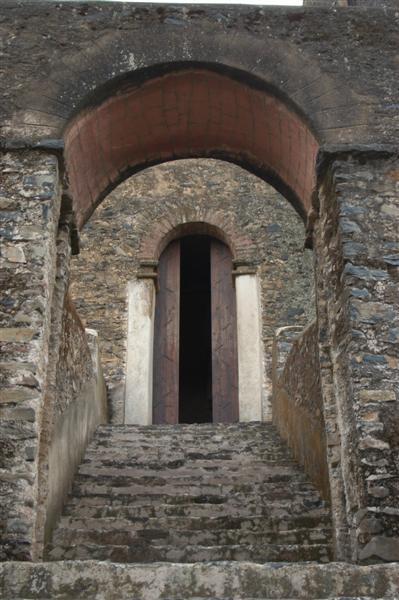 paid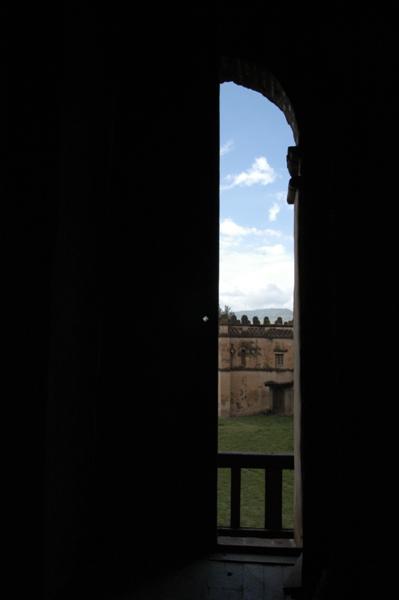 a total of 60 birr each for the ride and we weren't paying any more. The other passengers looked shocked but seemed like they weren't sure whether or not to believe us. The driver finally got involved and we gave him Daniel's name and said to go back to Bahar Dar and collect the difference from him. The driver had gotten our hotel name from someone else and didn't know Daniel. So Daniel and at least one other person had skimmed money off of this deal for doing practically nothing. I had to feel a bit bad about the driver. It was his van and he was doing the driving and the two guys who did almost nothing were getting the same amount of money. But this wasn't our system so we stood firm. It was a bit dicey because we didn't want to get tossed out of the van in the middle of nowhere. Finally everyone seemed to accept our story and settled down so the van could start moving again.
What was supposed to be a two or three hour ride to Gonder turned into a seven and a half hour nightmare. It wasn't the worst ride we'd been on but it was more about the expectations. When you know you are in for a long ride you mentally prepare for it. We weren't mentally prepared for it and our attitudes were worsened by the money issue. Why did it take so long? Because we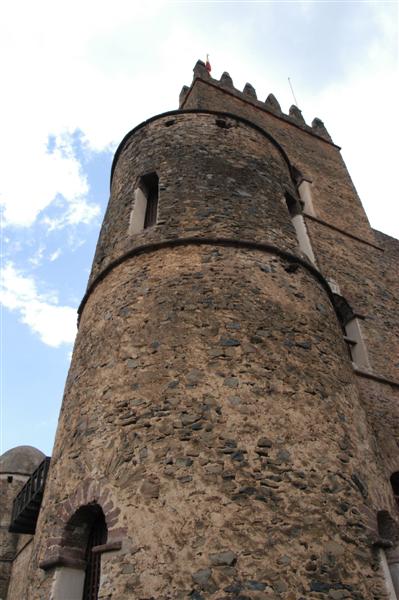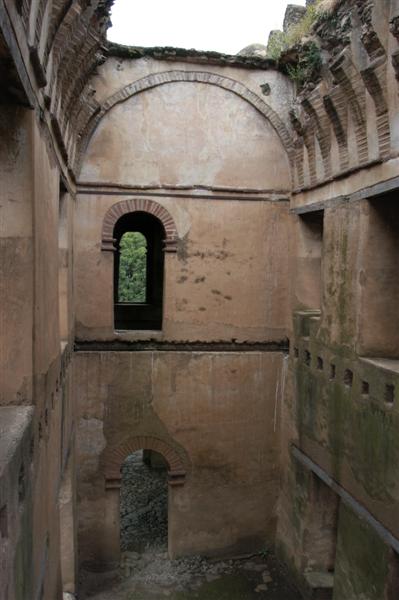 were in a crappy minivan on a muddy road. The van got stuck in the mud a couple of times, wheels spinning and we slipped around. Then, something started dragging underneath the van so they had to stop to sort that out, possibly the exhaust pipe or muffler. Then we couldn't make it up a hill so they stopped to take the spark plugs out and clean them. Then we got stuck in the mud again. Then we had radiator problems. We passed over our drinking water for radiator which seemed to win us a few points with our fellow passengers. But, even when we were moving we weren't moving that fast. When that public bus from Bahar Dar when rolling past us I almost screamed!
The van pulled over at one point for a break. We didn't want any farangi hassles so we just stayed in the van. We still had guys coming up to the van and making faces at us, tapping on the windows. I felt like a caged animal. A third person was squeezed in the back seat with us. He was sitting next to our bags and started to play with the locks until Rob told him to cut it out. The guy got annoyed and eventually moved, to be replaced by someone else. Another passenger told us we had to understand the "African" way. We explained that we had been in Africa for nearly six months and if we were subject to African prices and treated like other African people then we would appreciate the "African" way but we weren't. Hospitality and understanding go both ways. The ill-will that gets cultivated between tourists and locals is not any one groups fault. There are nasty tourists that turn nice locals bad and visa versa. Trying to understand where people are coming from can go a long way but, at this point, we were getting thin on "understanding". If anyone who reads this ever meets Big Daniel from the Ghion Hotel please think of a hot place to tell him to go or advise him to stick something in an uncomfortable place!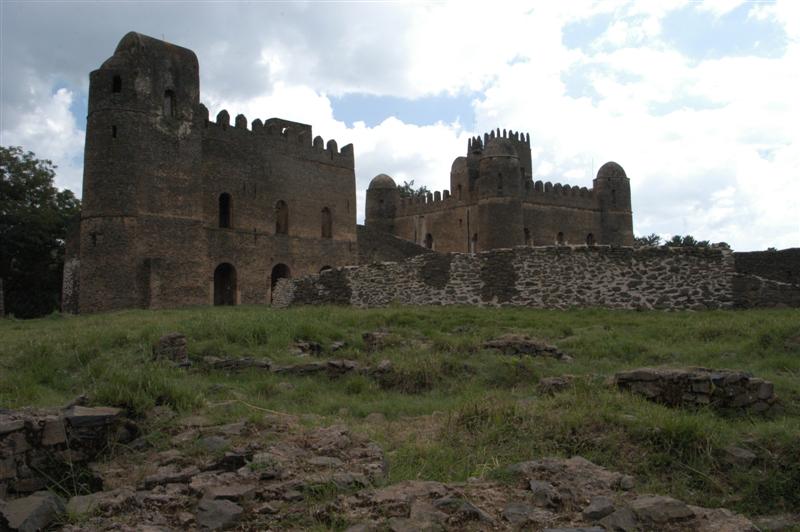 When the van FINALLY rolled into Gonder it was afternoon. Our flight left for Lalibela the next day. It didn't look like we would see much of Gonder after all. Not long after we hit pavement the van broke down again. We waited and waited and then we finally grabbed our bags and hailed a taxi. We couldn't afford to be too picky about hotels so we settled quickly on the Circle Hotel, because it is a tubular-shaped building. They gave us a room on the top floor. It was big but pretty grungy. We tried to get something to eat in the hotel's nasty restaurant but they were out of pretty much everything. We were exhausted but decided we weren't going to make that awfully ride a complete waste and went out for some sightseeing.
We went to change some money and then headed to see Gonder's main attraction, the Royal Enclosure. It wasn't very far from our hotel but it was starting to sprinkle. We bought our ticket and thwarted the guide service by saying we were with the group ahead of us. They guides were included but it would take too long. We did a quick and dirty tour on our own with the guidebook. The palaces inside the enclosure looked like anachronisms. At first sight I might have placed them somewhere in Europe, maybe Scotland, except for the round domes on the tops of the turrets. Hence the reason that people call it Ethiopia's Camelot. The architecture was apparently a fusion of Indian, Portugese, Moorish and Aksumite styles, done by an Indian architect. I couldn't tell you which part was which but it was a pleasant place to walk around. A couple of newer Orthodox churches stood just over the wall of the enclosure and I was struck by how much they reminded me of the newer Buddhist monasteries in Mongolia or Tibet. It wasn't just the structure of the buildings but the use of vibrant colors. That is another bizarre similarity between two distant and dissimilar religions. I mentioned the icon paintings earlier.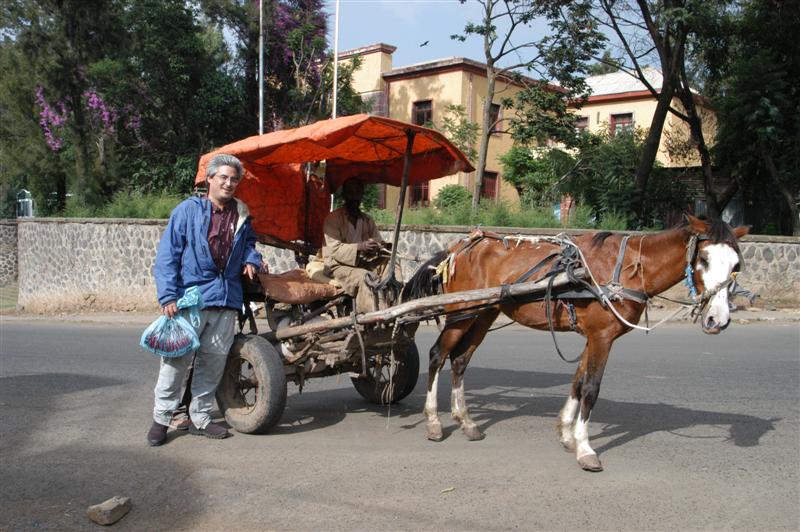 After our whirlwind tour of the Royal Enclosure we investigated transport to the Fasiladas' Bath, included in our ticket. Emperor Fasiladas founded Gonder as the capital in 1636 and it flourished for 200 years but you wouldn't know that to look at Gonder today. The small city is rather nondescript except for the few historical monuments. Fasiladas' palace was the oldest of those in the Royal Enclosure. His bath stood about a kilometer from the center of Gonder and we were able to catch a minibus to get there. It wasn't much to look at, just a small stone tower overlooking a nearly empty square pool. The postcards of people in the bath during the annual Timkat Festival were deceptively appealing. After a quick look at the bath we waited for about fifteen minutes for a minibus back into town. They were all full, one after another. We finally spotted someone getting out of a carriage and hailed the driver. The horse was in rather rough shape but his rubber soled hooves hardly made a sound on the pavement. His hooves were well worn and I initially worried that he hadn't been properly shoed but then I saw the rubber. I am sure that wouldn't be considered properly shoed but I tried not to feel bad about the plight of a horse in a country where so many people were badly off.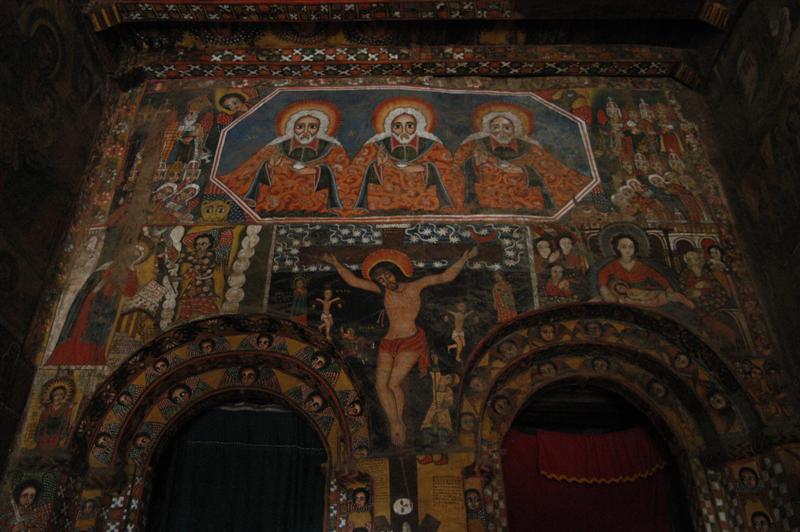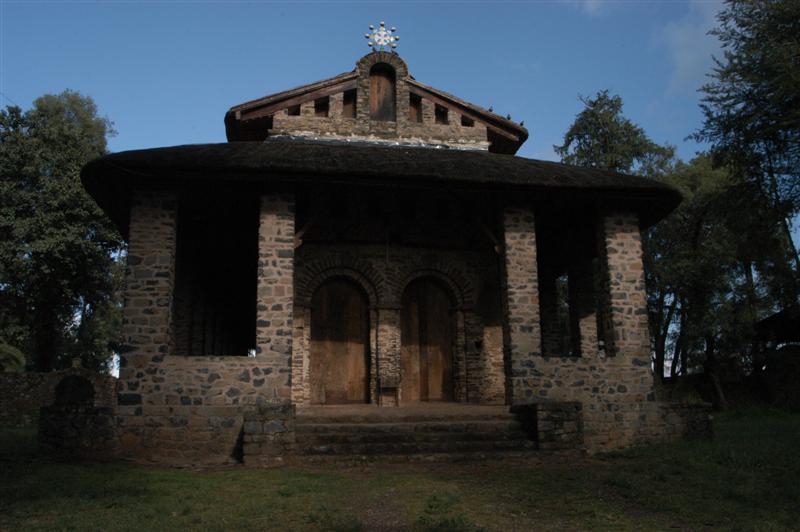 Back at the center of town we decided to grab a cab and see the last major attraction in Gonder, the Debre Berhan Selassie Church. The guidebook called it "probably the country's most famous church" and it was a gem of an old building. They let us in a side door and then opened the front to let some natural lighting inside. It had a lovely set of mural son the walls. The ceiling was full of cherubs and on the back wall was the unexpected image of Mohammad on a camel being led by the the devil. We enjoyed the small church by ourselves until a noisy German-speaking tour group arrived and the peace was broken by loud chatter. Then they pulled out their cameras and started flashing away. I commented that flashes weren't permitted but just got condescending looks. Based on my experience in European churches I suspect I would be chased off with determined efficiency if I tried to take flash photos in their most historical church. Why people feel they can act differently in someone else's country is inexplicable but sadly predictable. But, why did I care?! The caretakers of the church didn't. If they don't want to protect their own history then who can make them.
We had our taxi wait for us and then had him take us to another hotel for dinner, up the hill from ours, the Fogera Hotel, where we had a good western-style dinner. It was still daylight when we finished so we walked back to our hotel.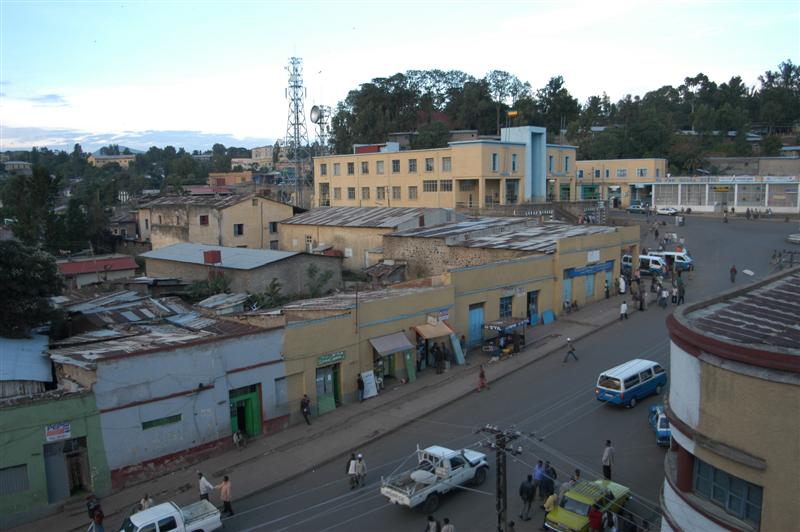 We ran into the same young boy, with a purple shirt and damaged eye, that had trailed after us each time we passed through the piazza. He was a precocious little guy and quite the savvy little negotiator. He wanted to hook us up with a taxi to the airport. We told him we would talk to him the next morning, if he was around. Our room had a decent view, if nothing else, so we watched the sun go down from our balcony. The bar was directly above us so it was noisy for a while but it quieted down early. The hotel had cable TV but they had to share the channel across all of the rooms so we didn't get any choice about what to watch. Just as the bar was calming down a movie came on. We watched "American Pie" with our four legged roommates. It had been on very long day. Whew...