September 30. BAHAR DAR Our flight was early so that we decided to ask the hotel to arrange a cab for us but we ended up paying a lot more. Even the taxi driver knew he was ripping us off because he decreased the fare by 5 birr when he found out that we would be coming back to Addis.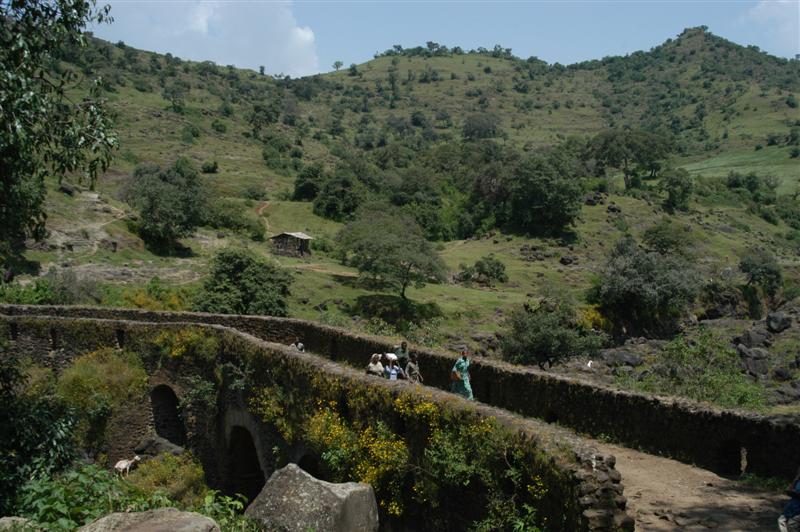 Our flight to Bahar Dar went smoothly. It was just one hour. The plane was four seats across but comfortable and the service was good. It felt like such luxury for us to be traveling by plane instead of overland but this trip would have taken two days if we'd gone by bus. When we arrived there were a number of touts lingering around to give people rides into town. The airport was some distance away and a taxi was the only option. We ended up in a van going to the Ghion Hotel. They said the ride was free if we decided to take a room at the Ghion but the ones they showed us were rather poor and at prices that were nearly double what was quoted in the guidebook. The first one hadn't been cleaned when they showed it to us but they clearly hadn't even looked in to see what condition the room was in before showing it to us. There was a used condom sitting in the middle of the floor. Next room please. All sorts of stuff happens in hotel rooms but I prefer to not think about it when I have to sleep on the same poorly sheeted beds. The next room was pretty poor as well with a huge hole in the wall behind the sink. Those experiences combined with the heavily vegetated grounds just put me off entirely. The whole place felt damp and dark, a perfectly good place for mosquitoes to fester and Bahar Dar was one of the malaria risk areas in Ethiopia. So we started off on foot to find another place.
Our guidebook described Bahar Dar as "one of Ethiopia's most attractive towns" but our initial impression wasn't very encouraging. If this was one of the most attractive towns then what did we have to look forward to? The vast Tana Lake was lovely but it was hard to get a look at it unless you could get in front of the buildings that lined the shore. Otherwise the town was rather nondescript, just bland concrete buildings, dusty sidewalks, and very little vegetation when you got away from the lake. We started to walk towards the Papyrus Hotel but it wasn't long before we picked up a tail. The guy was wearing a bright red shirt, not too stealth, and was being persistent until a man standing nearby waived him away. We knew another tout would be just around the corner so we caught a cab. The Papyrus Hotel was meant to be one of the nicer hotels in town but it didn't really impress us. The prices were up 30% and the rooms no longer had a TV. Our room was clean and comfortable but it was more expensive than in Addis.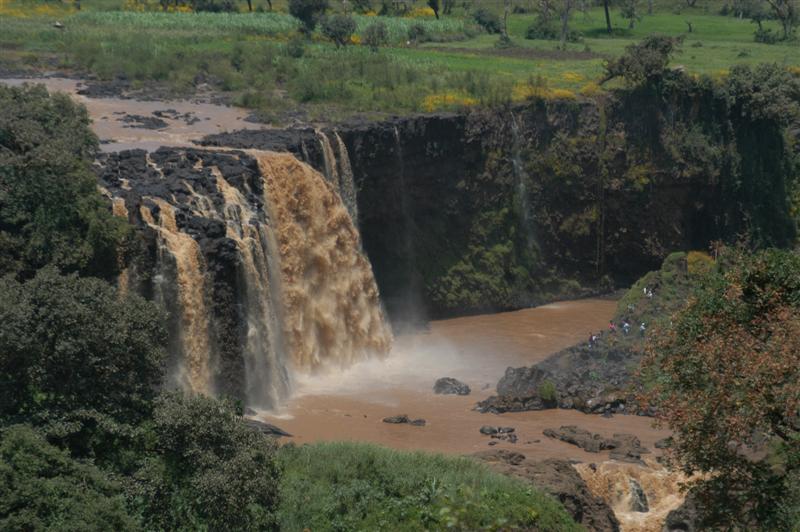 The Papyrus was at the back end of town, away from the lake, but it was only a ten minute walk to the waterfront. With our bags unloaded we grabbed some lunch at the hotel, which was terrible, before heading off to find a telephone to make our insurance call. I quickly used the hotel's overpriced Internet service to look up a direct dial number for STA and then we hopped into a taxi and went back up to the lake front road where the telelcom office was located. But, the telecom office in Bahar Dar couldn't even make international calls and nobody knew enough English to help us out. A man in the bank across the way was kind enough to give us directions to a private telephone center down the street. While we were in the area we also visited the Ethiopian Air office to inquire about changing our flight routing. We had been planning to do Gonder as a daytrip from Bahar Dar, because the flight was booked up when we made our initial reservations, but it just seemed like too much work. The flight was still booked but we did have the option to change our departure from Bahar Dar to Gonder, meaning we would only have to make the one-way trip to Gonder and wouldn't have to pay anything additional. We made a stop at an Internet cafe to send an update on our whereabouts and then returned to our telephone mission. After some searching we finally found the international phone center, a hole-in-the-wall (literally) attached to a cell phone shop, but we couldn't reach STA. We had to call back in the evening. Thankfully it worked! We just had snacks in the afternoon and never really had dinner.