October 23 - October 24. ABU DHABI The view from our room looked right out over the waterfront and we were on a high floor so we have a view across the downtown as well. The hotel was just below the Marina Mall breakwater on the south side of the peninsula. When we got up I started calling around about flights to Sri Lanka and we surprised to find that Sri Lankan Air, which flew out of Abu Dhabi but not Dubai,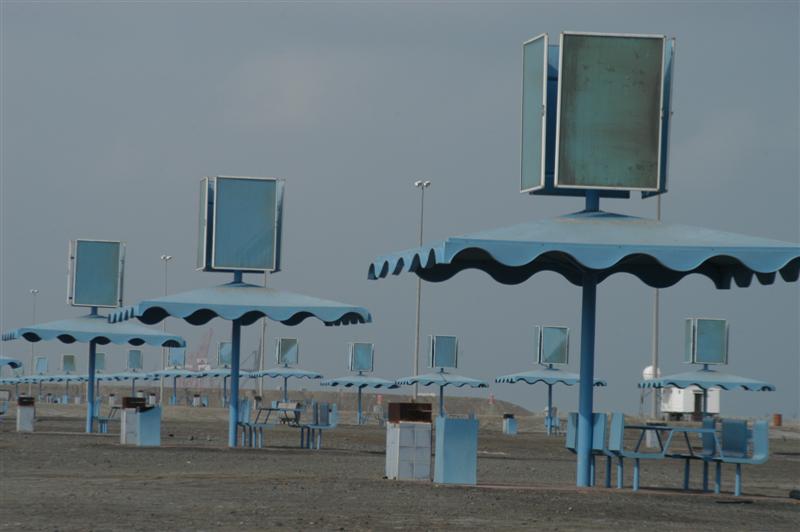 had a much cheaper flight to Sri Lanka than anything we'd seen from Dubai. It was about $100 cheaper per person. It was a wonderful stroke of good luck for us. It meant that we didn't need to go all of the way back to Dubai to leave the UAE. It also meant we weren't going to get back to see any more of Ajman or Sharjah. Sharjah was supposed to have had some good museums but lack of transport between the emirates had kept us from doing it while we were in Dubai. We figured we'd just go when we had the car but that is the way it goes. We were really relieved that the trip back to Abu Dhabi had turned out to be a short cut instead of a detour. And, it gave us a chance to see a bit more of Abu Dhabi. Abu Dhabi was very easy to navigate, relative to Dubai, and generally less hectic so we stayed an extra night at the Intercon, our savings on the flight paid for it, and booked a flight out to Colombo the following evening.
We had hoped that the hotel would let us stay in our nice room for the second night but we ended up having to change. They sent a bellman up to help us with our bags and take us to our new room. The new room was also in a good location, just on the third floor but overlooking the pool area. The only complaint that we had was that it smelled something awful. The previous person had been a smoker and probably spent the better part of his Ramadan day hiding in his room with a cigarette. They told us they would send someone up to "re-freshen" the room, whatever that meant, but after waiting a while nobody arrived and we began to think nothing could diminish the strong smell. So we called downstairs and asked for another alternative. They sent up the same bellman, a very nice guy from Egypt, and took us to yet another room. The people had just checked out so the room needed to be cleaned up but it smelled fine. The view wasn't as nice but the smell was definitely more important!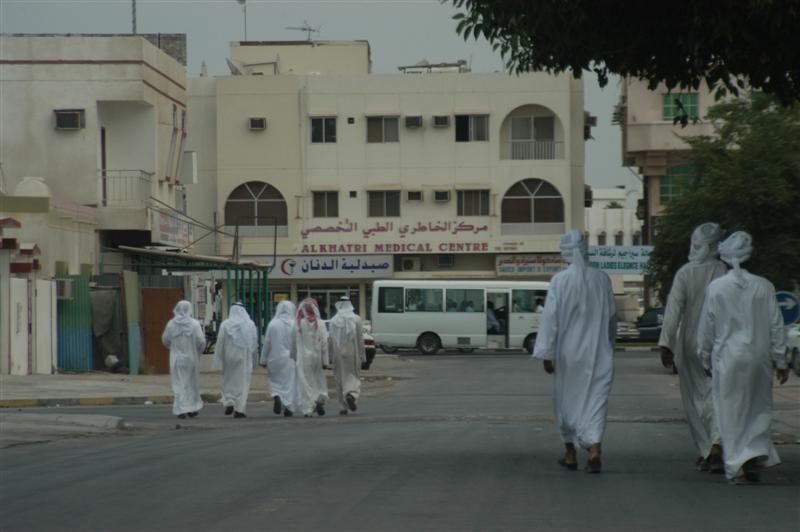 We had to pick up our ticket at the Sri Lankan Air ticket office in Abu Dhabi but that was just down the street from our hotel. We kept the rental car for one more day so we could easily finish up our last minute errands. Picking up our tickets was easy enough. We grabbed some breakfast food and snacks at the supermarket in the Marina Mall. Then we went on to find the local FedEx office where we planned to mail the souvenirs we'd bought in the UAE and Oman as well as the ones we had been carrying around since Ethiopia. They were some of our more valuable purchases so we didn't want to trust them to the regular post. It turned out that FedEx offered a flat rate 10kg box for just around $100, which was really a deal. The stuff we had to mail didn't add up to that much weight but a smaller box would actually cost more so we grabbed a box, held onto our souvenirs, and returned to the hotel to load it up with used guidebooks, unneeded travel gear, and whatever else we could find.
In the evening we ventured over to the newer and larger mall in Dubai, on the north side of the peninsula. It almost rivaled the Deira City Center in Dubai. We had dinner at the fast food court and used a nearby Internet cafe. In all of our bookstore searches in Dubai we never found the books we needed for Sri Lanka or India but we lucked out at this mall. The bookstore there had the LP version for Sri Lanka and the Rough Guide version for India, as well as phrasebooks. All in all Abu Dhabi had turned out to be a lucky place for us. Before we left I ventured into a couple of traditional perfume stores and found an incense burner that I like, one that used charcoal so I could try the incense mix I got from the man at the Buraimi market. Before heading back to the hotel we stopped at the older souks in the middle of down town. The more traditional souks seemed less abundant in Abu Dhabi but this one made for an entertaining stroll. Parking was a bit of a nightmare but we found most of the stores open for business. Most of the goods were similar to what could be found in the newer malls but the souk had a sort of ambience and sense of community that a mall did not have. It wasn't that they were housed in very traditional buildings, mostly just bland concrete blocks, but the buzz of activity and the cluttered chaos of goods spilling out around the front of the stores gave the feeling of an older market. The shopkeepers were very personal, while the mall shopkeepers were more professional. Both offered good service but it was different. You just shopped in a mall shop but you visited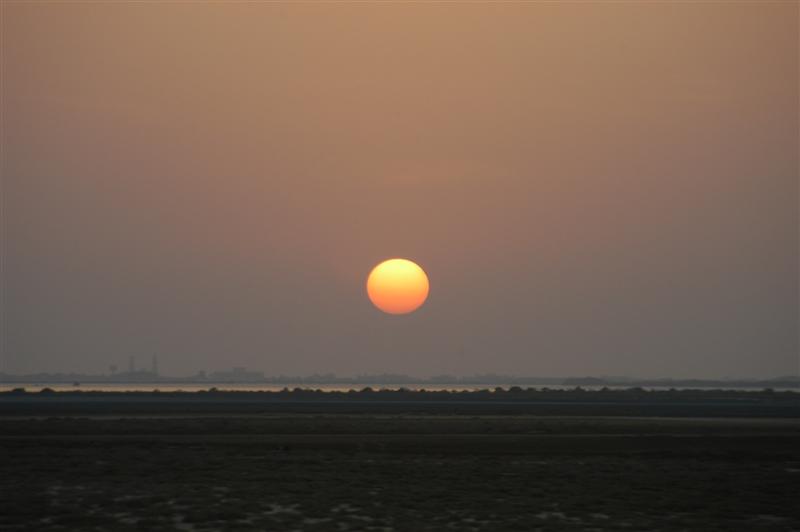 a souk shop, almost like it was an extension of someone's home.
Our last morning in Abu Dhabi we had to rush around to get our FedEx box shipped off and then get our car dropped off before 10:00. We had a minor problem at FedEx when the desk clerk, different from the person the night before, told us we couldn't mail a knife. We had asked that very questioned when we called the day before and reconfirmed when we visited the office. Both times we were told it was okay. That was one reason we were using FedEx over DHL. We couldn't get a straight answer form the DHL office. Finally we just insisted that she call their main office before we took the knife out of the box. She did and was told that decorative knives were okay. It would be hard to call an ornate Omani knife as anything other than decorative so we left it in the box.
The Budget office was tucked down a side street, a few blocks from the Corniche Road. On our way we did a circle around the big coffeepot island, more than just a roundabout, in the center of down town. The parking situation at Budget was a challenge. I ran into the office to let them know we were returning a car. They just said to park in the front or the back, wherever we could find a space. It took some time, snaking around the alleyways, hitting dead ends, before we finally snagged a slot. They checked us out but couldn't print us a receipt because their machine wasn't working so we left our address and they promised to mail it to us.
Now we were on foot and it was pretty hot out. It was better to stay on the shady side of the street to keep cool. Our last errand was to visit some banks and get some crisp UAE notes for Rob's collection. It turned out to take more time that we thought. While we were in downtown we apparently weren't at the end where there were lots of banks. We tried a few places. Rob even sent me into the woman's side of the Abu Dhabi Islamic Bank to look for a five note. He'd already been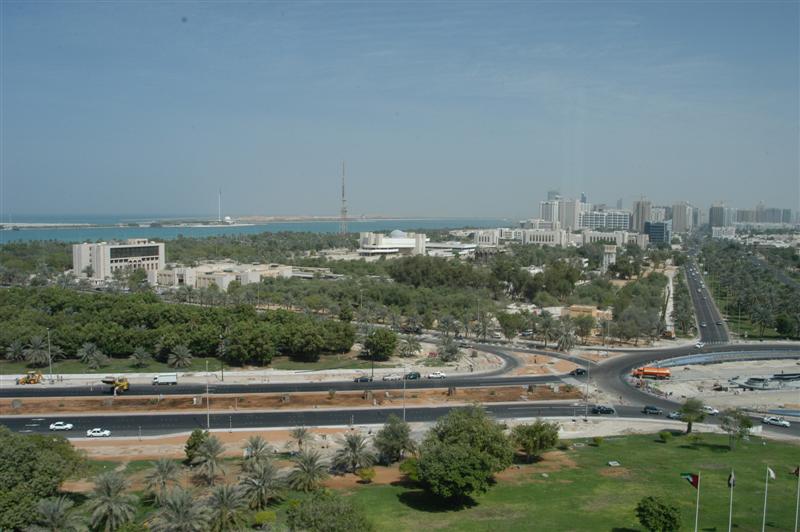 in the men's side and came up with nothing. I found it a bit uncomfortable since I was practically the only customer in their without my face covered and we definitively the only one not wearing a black robe. Nobody gave me odd stares or anything but I was clearly out of place. I watched the woman in front of me lift the scarf burqa from her face for identification. It all made good sense. If the purpose of remaining covered was not to expose your face to strange men then having two entrances in the bank was totally logical. It kept the two world's separate, even in public.
Finished with our errands we grabbed cab back to the hotel. They had given us a generously late check out, until 4:00, when we told them we had a night flight. That gave us the rest of the afternoon to enjoy the pool and relax. We claimed a couple of lounge chairs and read our books. I wore a bathing suit but kept myself covered with a sarong. The guests were mostly foreigners and I saw the pool attendant come over to one lady and politely chastise her for sneaking sips of water from a bottle she had hidden underneath her chair. They had set up a room nearby where water was available from a cooler and people were allowed to eat, drink or smoke out of sight. Eventually Rob went up to take a nap, in preparation for another night flight. I walked out to the sliver of beach the hotel had on the far side of the resort. It was filled with some foreigners, several of whom were blatantly breaking Ramadan laws. The water just off of the beach was warm and shallow, making a great place to swim and hang out. I stayed there until it got close to checkout time. After the bellman came to collect our bags we went back to the pool to watch the sun start to set.
We arranged a ride to the airport through the hotel and the car was ready and waiting right on time. It was about a twenty minute ride to the Abu Dhabi airport. When we pulled up I had to admit that I was a bit disappointed. It was really small, nothing like Dubai's big mega duty-free shopping airport.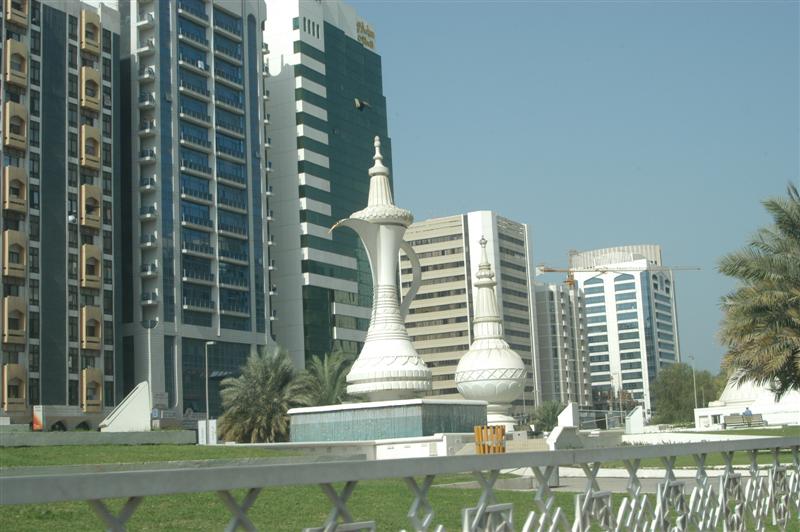 We had to wait until the desk opened to check in for the flight but fortunately the sun set and a cafe opened and gave us a place to sit. Inside the terminal was equally as disappointing. It wasn't a bad little airport but after seeing the Dubai airport we just expected more. There was a handful of duty-free shops and a couple of places to eat. I grabbed a salad while we waited. Our seats were at in the very last row, right in front of the attendants area. I gave Rob a stern eye for asking for seats at the back but they turned out to be okay. The guy in the window seat traded for the aisle since he was getting off at Qatar so we settled into the corner and just tried to sleep.
DUBAI
I: Oct 15-17
II: Oct 15-17
I: Oct 18-19
II: Oct 18-19
AL AIN
Oct 20
Buraimi
(Oman)
Oct 21
OTHER
EMIRATES
Oct 22
ABU DHABI
Oct 23-24